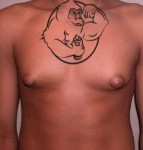 Gynecomastia, better known as bitch tits, is pretty much a problem for almost every bodybuilder. For the 90%+ of us who are not genetically gifted, we face the risk of gyno problems during almost every cycle. However, there is a solution for this that has been tried and tested on countless individuals. It is a miracle cure for gynecomastia unlike anything you have ever seen.
However, I would like to address the following before we go forward. Anyone who reads this article and critiques it, has to realize that we are on the internet, so there is no possible way to get a bloodwork from every individual. Therefore, we have to make educated guess based on our experience as to why this person has gynecomastia, and since most gyno cases are caused by the same problem – the solution is almost always the same.
NOTE 1: You have to TAPER UP and DOWN the use of Letrozole; otherwise, you'll have a nasty estrogen rebound.
NOTE 2: The average anti-gyno therapy lasts 4 weeks, but it's VERY subjective. Some extreme cases of gynecomastia require longer cycles, some shorter. You'll have to be a bit subjective with your case and only taper down once you feel your gyno is gone.
Note 3: While this might sound like extreme therapy to some, remember that the alternative is surgery (going under a knife!), so this isn't a joke!
Evolutionary Anti-Gynecomastia Cycle:
Week
Letrozole
Nolvadex
Dostinex
N2Guard

1
1.25mgs/ED
40mgs/ED
0.25mgs E3D
2 caps AM+2 caps PM
2
1.25mgs/ED
40mgs/ED
0.25mgs E3D
2 caps AM+2 caps PM
3
2.5mgs/ED
60mgs/ED
0.25mgs E3D
"same"
4
2.5mgs/ED
60mgs/ED
0.25mgs E3D
"same"
5
1.25mgs/ED
40mgs/ED
0.25mgs/week
"same"
6
1mg/ED
20mgs/ED
0.25mg/10 days
"same"
7
1mg/ED
20mgs/ED
None
"same"
8
0.5mgs/ED
10mgs/ED
None
"same"
9
0.5mgs/ED
10mgs/ED
None
"same"
10
0.25mgs/ED
5mgs/ED
None
"same"
11
0.25mgs/ED
5mgs/ED
None
"same"
12
0.125mgs/ED
5mgs/ED
None
"same"
13
None
5mgs/ED
"same"
*ED = every day*E3D = every 3 days*None = stop using

*HCGenerate 2 caps AM/2 caps PM - every day
*same = same as the previous dose