The athletics federation of Kenya has announced that three-Time Boston Marathon Winner Rita Jeptoo's "B" sample has tested positive. The B sample result confirmed an earlier test that found traces of Erythropoietin (EPO), a banned performance enhancing drug.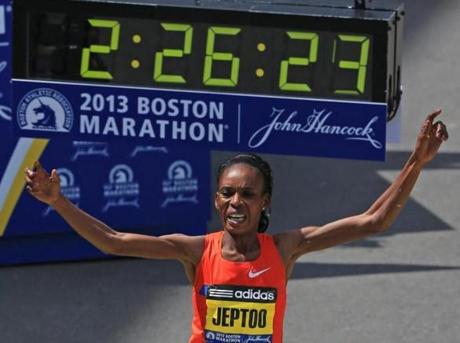 Jeptoo, a three-time winner of the Boston Marathon and two-time winner in Chicago, provided the first positive sample during an out-of-competition test in Kenya on September 25. Athletics Kenya said tests of the "B" sample were conducted between Wednesday and Friday at the World Anti-Doping Agency lab in Lausanne. In a statement, the federation said it will hold a hearing of Jeptoo's case early January.
The 33-year-old Jeptoo was set to be crowned winner of the World Marathon Majors series before it was disclosed that she had failed a doping test. The athlete had clinched the women's point leadership of the 2013/2014 World Marathon Majors series after victories in Boston and Chicago in 2013 and 2014.
Athletics Kenya President Isaiah Kiplagat defended athletes of his country by remarking that if you compare that to athletes banned by other federations like Russia and China, we are nowhere. Kiplagat said the Kenyan federation has banned or suspended 32 athletes for doping in the past five years and the doping problem in his country is far less severe than in Russia or China. The Athletics Kenya chief added laws will be formulated by a Kenyan government taskforce to punish anyone found guilty of supplying Kenyan athletes with performance enhancing drugs.
In 2012, German broadcaster ARD alleged that widespread doping was common in Kenya. It was claimed that the blood-boosting drug EPO and other prohibited substances are commonly used by country's distance runners and these drugs can easily be purchased from pharmacies in its high-altitude training camps.
Carey Pinkowski, executive race director for the Chicago Marathon, said it is unclear as of now how the B sample's result will affect the standing of Jeptoo. Pinkowski remarked we are disappointed by this news and added we must respect the process and will await the International Association of Athletics Federation's formal proceedings and final ruling before addressing the athlete's standing.
Jeptoo would become the fourth Chicago Marathon women's winner to lose the title for doping in six years if she is stripped of her Chicago title and prize money. By clinching the women's point leadership of the 2013/2014 World Marathon Majors series, Rita Jeptoo won a purse of $50,000 that may now go to Edna Kiplagat. Jeptoo may face at least a two-year competitive ban but she has the right to appeal to the Court of Arbitration for Sport.
American Stephanie Rothstein Bruce said a ban of two years is not enough. She said there is no point in letting someone back in the sport because what message is that going to send to people. Stephanie added the consequences aren't harsh enough to thwart people from trying to actually do drugs and there should be lifetime bans.
Dathan Ritzenhein, the top American in the Chicago Marathon in 2012 and 2013, remarked she only wish Rita Jeptoo would have gotten caught earlier. Dathan added Rita spent at least a couple years cashing in at the expense of others and deceiving those who support and love this sport.
Get more information about News, Doping, SARMS, Steroids, HGH and PDS...
Subscribe to our Underground Evo mailing list and get interesting news and updates directly to your inbox.
Thank you for subscribing.