The Nevada State Athletic Commission (NSAC) has temporarily suspended the now-retired UFC fighter Chael Sonnen pending a formal hearing. The American mixed martial artist who last competed in the Light Heavyweight division of the Ultimate Fighting Championship recently announced his retirement from competitive mixed martial arts.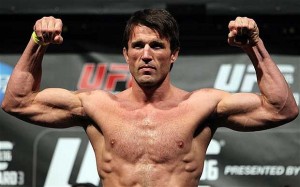 Sonnen failed a random drug test before his scheduled fight with Vitor Belfort at UFC 175, which has now been called off. The All-American wrestler from the University of Oregon announced his retirement after competing in MMA for 17 years, including the last five with the UFC. Sonnen was on Testosterone replacement therapy (TRT) before it was banned by the Nevada Athletic Commission. The Ultimate Fighting Championship fighter said he should have disclosed to the NSAC that he was on the drugs and took responsibility for his actions. Sonnen remarked he was "confused" about commission regulations for out-of-competition testing, since the tests came in May and the fight was in July.
Sonnen (28-14-1 MMA, 7-6 UFC) will file a response to the complaint, according to Jeff Meyer, who co-manages the three-time title challenger. The UFC fighter remarked he would fight against ruling of the UFC though he admitted using Anastrozole and Clomiphene.  Sonnen said he used the drugs and Human chorionic gonadotropin (HCG) to wean himself off Testosterone (medically prescribed) after the NSAC banned it earlier this year.
Anastrozole (Arimidex) is a non-steroidal aromatase-inhibiting drug that is used for treating breast cancer and often used by athletes to prevent estrogenic side effects such as gynecomastia. Clomiphene (also known as Clomid) is used to treat female infertility and may be used by some athletes as a post cycle therapy drug to prevent or reduce side effects of excess estrogens such as oily skin, acne, and bloating. Both the drugs are listed on the World Anti-Doping Agency banned substance list.
Light heavyweight champion Jon "Bones" Jones has defended Sonnen and said he admires him for being vulnerable and open about his personal issues. The UFC fighter said he watched Sonnen on UFC Tonight who handled things very responsibly. Jones said he really admires Sonnen for telling the world about his situation with his wife and things like that and added it was a win for Sonnen as he got to let some things off his heart, off his chest and just be real with everybody.
In 2009, Sonnen had his best fight in UFC with former UFC middleweight champion Anderson Silva, whom he challenged for the title in 2010 and 2012, but submitted to a triangle choke in the final round. After this fight, Sonnen tested positive for an elevated testosterone-to-epitestosterone ratio that earned him a suspension of six months. Thereafter, Sonnen revealed a diagnosis of hypogonadism and being approved for Testosterone replacement therapy. In a rematch, Sonnen lost via TKO in the second round. This match took place at UFC 148 in July 2012 and remains the highest-grossing UFC event ever held in Las Vegas. This event drew an attendance of 15,016 and a live gate of $7 million.
Get more information about News, Doping, SARMS, Steroids, HGH and PDS...
Subscribe to our Underground Evo mailing list and get interesting news and updates directly to your inbox.
Thank you for subscribing.