Chris Bumstead is considered one of the 20-something up and coming bodybuilders, who believe in the renewed golden age principles of a tight waist and core. He burst onto the scene just a couple years ago when he earned a pro card at just 21. His stats are 6 foot tall and 225 pounds lean. He was born in Ontario, Canada.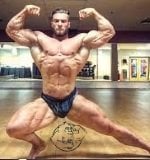 Early life and success
Growing up, Chris loved all kinds of sports, but he especially enjoyed getting stronger and more muscular in the weight room. He met an older bodybuilder, who was dating his sister, who took him under his wing and saw his potential to step on stage and win.
In 2015, Chris won 1st place at the CBBF Canada National Bodybuilding Championship Juniors. The very next year he took 2nd place in the Heavyweight division, and then the next year, as mentioned earlier he won a pro card, finishing 1st at the 2016 IFBB North American Bodybuilding Championships.
In 2017, Chris got 1st place at the Toronto Pro Classic Physique, and then at the 2017 Mr. Olympia he got 2nd in Classic Physique (falling just 3 points shy of winning it). His close Mr. Olympia showing shocked everyone, including Breon Ansley, who was the winner and almost twice his age. This is phenomenal considering how young he is. My prediction is if he stays healthy, and takes his time to do it the right way, he will be a top 3 Mr. Olympia overall within the next 10 years.
Social media and websites
Chris has over 500K followers on his Instagram: https://www.instagram.com/cbum/?hl=en . He uses it to market Jed North and Bro Active Wear apparel, and also an MHP strong supplement brand. He also posts pictures and videos of his weight training, posing, and pictures with celebrities like Jay Cutler.
His youtube channel has 100K subscribers: https://www.youtube.com/channel/UC4514FwdRy5gI6CdC9GPb0w . He does not update it very often but on it, you can find videos of his workouts, diet, and videos with guys like Arnold and Cutler.
His most popular videos on youtube are as follows:
He has a video chronicling his Mr. Olympia experience Part 1:
and part 2:
He also has a very popular video of him post competition eating 10000 calories in one day!
Training style
Chris preaches 3 top exercises that he says helped him improve quickly. They are squats, bent over barbell rows, and incline dumbbell press. These 3 lifts he says will work your legs, back, and chest/shoulders the best out of any lift you can do.
Chris also likes a 5-day training split, so he can focus on muscle groups. The 5 muscle groups he dedicates on separate days are quads, shoulders, hamstring/glutes, chest, and back. He says he doesn't take days off unless he really needs to and simply rotates the splits day by day. His lifting goes to failure on half his sets, and he also believes in super-setting and drop-setting. Typically each split has between 17-27 sets per day, with each set going 8-15 reps.
Nutrition
When it comes to his competition diet, Chris is very strict. He will stick to a straight diet routine and adjust things based on what he feels like needs to be adjusted going into a competition. He is so particular about his diet that he won't ever add in a new food because he's scared how his body may react to it.
His diet is 7 meals a day including eggs, oats, vegetables, rice, chicken, fish, sweet potato, and broccoli. There is zero fruit or dairy in his diet.
When he is bulking in the offseason, his diet goes to 6000 calories a day, and includes things like muffins and 'quick carb snacks' so that he can have an easier time reaching his calorie macros.
Steroid use
It doesn't take a genius to see Chris has amazing genetics, work ethic, and discipline to achieve his transformation:
Steroid use should not take anything away from him, but it is obvious to me that he uses quite a bit of steroids. So here is my take on his cycle.
Chris Bumstead Steroid Cycle *:
Forums
Join the Evolutionary.org forums and have your say on Chris Bumstead Steroid Cycle!
*DISCLAIMER: The cycle above is our opinion on what Chris Bumstead could have used, this is for information and entertainment purposes only. There is no direct evidence that Chris Bumstead used steroids or any other drugs. This article is our freedom of speech.
Get more information about News, Doping, SARMS, Steroids, HGH and PDS...
Subscribe to our Underground Evo mailing list and get interesting news and updates directly to your inbox.
Thank you for subscribing.