The Russian athletics federation has suspended five athletes, including an Olympic hammer throw finalist and a top marathon runner ahead of the publication of a major report into Russian doping.
A statement on the Russian federation's website said two athletes were disqualified on the basis of the documents received from the IAAF and three athletes were banned on the basis on information received from the Russian anti-doping agency.
Mariya Konovalova, a two-time Russian champion, was disqualified until October 2017 and her results from August 2009 cancelled. The 41-year-old twice won bronze in the Chicago marathon after irregularities were found in her biological passport that monitors the blood profile of an athlete for evidence of doping.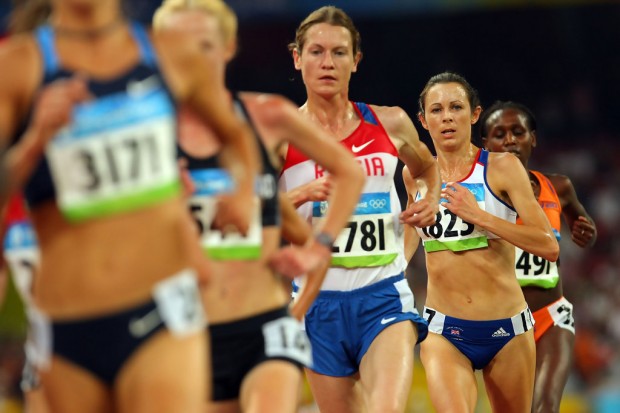 Hammer thrower Maria Bespalova, who finished 11th at the 2012 London Olympics, received a doping ban of four years after testing positive for an anabolic steroid.
Race walker Evgeny Nushtaev and runners Vlas Bredikhin and Yaroslav Khlopov also received doping bans. Bredikhin and Kholopov received bans for four years while Nushtayev received a ban of six months.
In another development, the Russian Water Polo Federation has suspended from sports Ivan Suchkov, a player of the Russian national team, for a period of one year over doping abuse.
Russia has been the center of doping allegations throughout this year. In January, Tatyana Chernova, the 2011 world heptathlon champion, was suspended for two years by the Russian Anti-Doping Agency and Yuliya Zaripova, who won gold in the women's 3,000 meters steeplechase at the London Olympics, received a doping ban for two and a half years over doping. In the same month, Sergey Kirdyapkin, Valeriy Borchin, and Olga Kaniskina and Russia's 2011 world champion Sergey Bakulin and 2011 world championship silver medalist Vladimir Kanaykin received suspension after they were found guilty of violating anti-doping regulations. The head coach of Russian athletics, Valentin Maslakov, resigned in January after allegations of him encouraging doping surfaced.
Russian president Vladimir Putin underlined deep disappointment with a series of positive doping cases and urged the fight against performance enhancing drugs.
The IAAF scandal erupted when prosecutors from the Parquet National Financier (PNF) confirmed former IAAF President Liame Diack is being investigated for bribery. The ex-IAAF chief and his adviser Habib Cisse have been formally interviewed while IAAF's anti-doping director Gabriel Dolle has been taken into custody. According to prosecutors, the investigations are centered on allegations that Diack was paid more than one million euros to cover up positive drugs tests and on suspicion of corruption and money laundering following a complaint from the World Anti-Doping Agency (WADA).
Russian Athletics Federation president Vadim Zelichenok remarked the case did not involve his organization. On Thursday, Zelichenok said no one has been in touch with the new representatives of the Russian Athletics Federation (VFLA) about the current situation. He also added that we have not received one question from any organization and therefore, this case does not involve the VFLA in any way at the moment. The Russian Athletics Federation president also added that we do not intend to carry out any individual actions on our own and we are not facing any kind of sanctions.
Get more information about News, Doping, SARMS, Steroids, HGH and PDS...
Subscribe to our Underground Evo mailing list and get interesting news and updates directly to your inbox.
Thank you for subscribing.