A video footage purporting to show the bike of Ryder Hesjedal moving by itself after he crashed on stage seven of the Vuelta a Espana has emerged on the internet.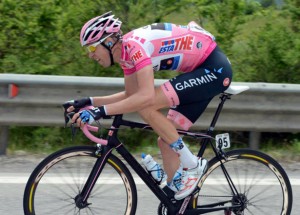 Hesjedal crashed on a corner whilst in an escape group on stage seven. The bike of the Garmin-Sharp rider appears to start moving on its own on its own accord after it fell on the road before it was run over a motorbike. This prompted many media websites, including French newspaper L'Equipe, to ask whether the bike is motorized.
The Canadian professional racing cyclist who rides for UCI ProTeam Garmin-Sharp is not new to controversies. Hesjedal has a history of being associated with teams with well-known doping problems. He rode with Rabobank in 2002-2003, U.S. Postal Service in 2004-2005, and Phonak in 2006. He recently confessed that Michael Rasmussen spoke truthfully about his prior doping practices. In his autobiography "Yellow Fever," Rasmussen wrote that he in 2003 taught Ryder Hesjedal and two other Canadians, Seamus McGrath and Chris Sheppar, how to make use of blood booster EPO.
         Rasmussen remarked they moved into his house's basement in August, before he raced the Vuelta a España and right after he had ridden the Championship of Zurich. Michael Rasmussen also wrote that they stayed for a two weeks and he trained with them in the Dolomites and taught them how to do vitamin injections and how to take EPO and Synacthen. In his autobiography, the retired Danish professional bicycle racer also said they left his home with a hematocrit of 48 per cent, which is just two per cent under the 50 per cent UCI maximum threshold.
In 2010, claims of motors used by professional riders first came to notice when Fabian Cancellara was alleged to have a hidden motor in his bike to win the Tour of Flanders and Paris-Roubaix. In a YouTube video, former cyclist Davide Cassani claimed in 2010 that Cancellara used a motorized bike during his victories at the Tour of Flanders and the Paris–Roubaix. Cassani demonstrated a motorized bike on television and said the person who gave it to us confirmed that some professionals have used it.
     Based on Cassani's claims, Italian public prosecutor, Raffaele Guariniello, opened up a sporting fraud investigation. The allegations were brushed off by Cancellara and his Saxo Bank team. The allegation caught steam as rumors were already going around about riders possibly making the use of the new motor, the Gruber Assist, which could produce 100 Watts of power to aid the rider.
The world governing body of cycling, the UCI, held a meeting after claims of motorized bikes. Davide Cassani, Rai television commentator and ex-professional, showed a battery-powered bike after Giro d'Italia stage 18.
Nicknamed "Spartacus", Cancellara (the Swiss professional road bicycle racer for UCI ProTeam Trek Factory Racing) voluntarily withdrew from Tour de France 2014 to prepare for September's Road World Championships in Spain. In a statement, Cancellara said he will travel home and take a little break. The Swiss rider won the Tour de Suisse in 2009 before he went on to assist Saxo Bank team-mate Andy Schleck finish second at the Tour de France.
Get more information about News, Doping, SARMS, Steroids, HGH and PDS...
Subscribe to our Underground Evo mailing list and get interesting news and updates directly to your inbox.
Thank you for subscribing.