Representatives from 11 of the leading universities of the United Kingdom met in Bedfordshire on 12 March 2014 for the inaugural University Accreditation Scheme (UAS) Forum, which was hosted by UK Anti-Doping (UKAD).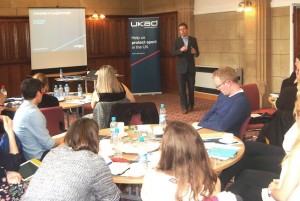 The University Accreditation Scheme recognizes the positive work of an academic institution in promoting clean sport. This scheme reflects the culture, policies, practices, research, and education relating to anti-doping of a university. At the UAS forum, delegates share their ideas and learning from their experience of the scheme and provide assistance to those keen to join. UK Anti-Doping highlighted the resources that are available for supporting institutions with their programs.
The UAS Forum started with UKAD Next Generation Education Officer Matthew Perry providing an overview of UAS. After this, a series of short presentations, highlighting on the elements of their UAS program that have been successful were delivered by attendees from universities including, Loughborough University, University of Bath, and University of Birmingham.
This forum concluded with presentations from the UK Anti-Doping staff on promoting the scheme along with an update on the revised World Anti-Doping Code, which comes into effect on 1 January 2015.
University of Birmingham Performance Sport Manager Alex Taylor remarked that the UAS Forum meeting was a great opportunity to share ideas on how to get the message out across higher education - be it through student ambassadors or decision tress. We are all working towards a common goal to achieve a clean sport environment – one that ensures a level-playing field for all. Team Bath Sport Science Placement Student Abigail Irvin remarked that it was brilliant to see so many different institutions coming together to work towards a common goal and seeing the passion people have for the work they are doing really inspired him to continue pursuing such an important goal.
UKAD Head of Education and Athlete Support Amanda Batt said that universities have the ability to influence the attitudes and behaviors of the next generation of athletes, coaches, and wider athlete support personnel. Amanda added they are also home to many of our current elite athletes and for them to take a leading role in preventing doping is extremely encouraging and we look forward to continuing to work with each institution to ensure they have the support and resources required to promote clean sport.
In another development, some of the top anti-doping experts will gather at Wembley Stadium on Wednesday 19 and Thursday 20 March 2014 for the UK's annual Tackling Doping in Sport conference. A keynote presentation on the opening day would be presented by World Anti-Doping Agency (WADA) Director General David Howman and Union Cycliste Internationale (UCI) Director General Martin Gibbs and US Anti-Doping Agency (USADA) Chief Executive Officer Travis Tygart are among the headline speakers on the second day of the conference.
UKAD Chief Executive Andy Parkinson said the conference comes at an important time for anti-doping and added that we have a new Code coming into effect in seven months and there are continued developments in the techniques being used to protect clean athletes. Parkinson also remarked that events like this provide an important international forum to ensure we continue to collaborate in the most effective manner.
Get more information about News, Doping, SARMS, Steroids, HGH and PDS...
Subscribe to our Underground Evo mailing list and get interesting news and updates directly to your inbox.
Thank you for subscribing.