....Jackie Chan is a superstar in the Acting-Martial Arts world....
Jackie Chan (Chan Kong-sang) is a Hong Kong actor, stuntman, director, and martial artist. He is considered one of the most entertaining martial arts actors in the modern era, blending comedy with circus-like fighting style and stunts, that blows the audience away. Outside of movies, he does a lot of charity work and also sung theme songs for his movies. His net worth is estimated to be almost 400 million USD$, and he is routinely in the top 10 for most charitable celebrities. In fact, he is one of the top paid actors in the world.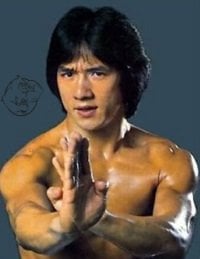 Early life
Chan was born in Hong Kong in 1954, to Chinese refugees, who fled the China Civil War. Both his parents worked for the government, and in 1960 his father went to Australia to work in the embassy as a chef. Chan enrolled at Peking Opera School where he learned martial arts and acting. He later became a black belt and trained Jeet Kune Do, Judo, Taekwondo, and Karate.
Before Fame
Before he was a star....
As a young child, he started acting in minor roles and as a teenager, including working as a stuntman in several Bruce Lee films. Chan was not able to get much work acting in action movies as a young adult, so he grabbed whatever role he could find. He acted in an adult comedy called All in the Family, where he had a nude sex scene.
Chan ended up following his parents to Australia where he worked in construction to make ends meet. In 1976, Chan was contacted by a film producer who liked his stuntman abilities, and he got another chance in several small budget movies which did not do well. Part of the reason for Chan's failures was that his style of martial arts did not match the movie plots well, and the producer threatened that if Chan broke his contract he would send a gang after him. The dispute would be resolved with the help of Jimmy Wang, and Chan now was able to broaden his talents.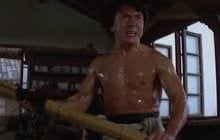 Chan's first Hollywood movie was in 1980 called "The Big Brawl", and he played a role in the blockbuster movie "The Cannonball Run". His movie success did not play well in the United States initially, so he went back to Hong Kong to try and reach out to the Asian market. Both "The Young Master" and "Dragon Lord" helped launch Chan as a top film star. Here is a scene from "Dragon Lord" where he does an amazing flip off a loft. His biggest movie so far was "Armour of God" which made 35 million HK dollars.
Chan would have several successful movies including "Project A" and "Police Story" and sequels at home, earning him awards and a lot of money.
Hollywood again
Chan was offered roles as villains in action movies, including Sylvester Stallone's "Demolition Man", but did not want to play the bad guy who dies in the final scene. Why? It seems he believed future directors would typecast actors, and he'd always be the bad guy. In 1995, he plays a nephew who visits his uncle in the New York ghetto and has to fight a gang. This movie was my personal favorite of Chan's and it was called "Rumble in the Bronx". Although the acting was cheesy and the plot was thin, the stunts and action were critically acclaimed and earned Chan a major American audience. Watch these two scenes with amazement:
The 2nd release of "SuperCop" (originally released in Hong Kong) was in the United States and became critically acclaimed. It is considered overall the best movie of his career with solid acting, well-timed comedy, and a good plot.
Chan graduated to starring alongside American actors and started to bring in the big cash with comedy/action movies. His first was teaming up with the loud and obnoxious Chris Tucker as cops in "Rush Hour". The movie and its sequels were not critically acclaimed but each easily topped 100 million$, attracting the key young male demographic.
In 2000, he starred in a Western action comedy called "Shanghai Noon" and the sequel "Shanghai Knights" with Owen Wilson. After several more Hollywood movies, Chan became frustrated with not having enough control over all aspects of filmmaking. He decided to do more dramatical movies back in Hong Kong including "Rob-B-Hood" and "The Forbidden Kingdom".
In 2010, he did the "Karate Kid" remake with Jaden Smith. Chan would help the young man fight off bullies, and the movie made over 350 million$ at the box office worldwide. Chan has since pulled back from acting citing wanting to take care of his body. He has still done a few movies including "Kung Fu Yoga" which was successful in China.
Personal life
Chan speaks a total of 9 languages and holds 3 honorary doctorate degrees. He is married and has 2 children (1 born due to an affair with another woman). He also has many businesses including production companies, cinemas, clothing lines, gyms, food, etc. A percentage of all his profits automatically are donated to charity. He is a huge advocate for the environment, animals, helping those in need, and help with national disasters. Chan has pledged half his net worth to charity upon his death.
Steroid Use
As demonstrated in this video, Chan was a very agile, flexible, and strong individual https://www.youtube.com/watch?v=vm3vq_qPdAQ . My opinion of his steroid use was more for recovery and well being than to build huge muscle and strength. A speculative cycle he would have run would be.
Jackie Chan Steroid Cycle: *
Forums
Join the Evolutionary.org forums and have your say on Jackie Chan Steroid Cycle!
*DISCLAIMER: The cycle above is our opinion on what Jackie Chan could have used, this is for information and entertainment purposes only.
Get more information about News, Doping, SARMS, Steroids, HGH and PDS...
Subscribe to our Underground Evo mailing list and get interesting news and updates directly to your inbox.
Thank you for subscribing.