Known as 'the most dangerous president in the world' due to his fighting ability, Khaltmaagiin Battulga (Battulga Khaltmaa) is the leader of the Asian country Mongolia. You can watch a short video of him here to get an idea of his size and strength:
About Mongolia
Mongolia is a fairly large country situated between China and Russia...
From 1691 until 1911, it was ruled by the Qing Dynasty until they were finally overthrown. After being ruled for so many years, civil war erupted and the country almost fell into the hands of China who wanted the territory. However, Mongolians would turn to their northern neighbors for help, and with the Russians help, were able to reject Chinese influence.
Mongolia was ruled by the People's Revolutionary Party (Communist party) for most of the period therafter. It did not become a democracy until 1992, being a sovereign socialist state during much of the 1900's, thanks to the Soviet influence.
Election
On July 10, 2017, Battulga Khaltmaa became the 5th president of Mongolia. He won the 2017 election in the 2nd round runoff by 10 points: https://en.wikipedia.org/wiki/Mongolian_presidential_election,_2017
He represents a center-right party called the Democratic Party, and beat the other major party, the center-left to a left-wing party called the People's Party.
His prior experience was 12 years in their parliament, and then 4 years as the Minister of Transportation.
Early life
Battulga was born in Ulaanbaatar, which is the capital and largest city of Mongolia. In 1966 his family lost everything during a flood, so they were given a tent to live in. He grew up living on the streets and was lucky enough to attend a secondary school where a teacher noticed his artistic talents. He made money selling artwork to tourists, and in the process taught himself English to be able to communicate when he visited hotels.
Athletic World Leaders
Current world leaders who are athletic....
President of Mongolia Khaltmaagiin Battulga is considered the most athletic leader in the world and has a history with martial arts including Judo and wrestling. Perhaps the only 2 world leaders who could last more than 10 seconds in the ring with him in any sport are Ramzan Kadyrov (President of Chechnya), who has a decade of boxing and karate experience; and Putin of Russia who has a black belt in Judo and is a very good hockey player. You can watch a video of the 3 of them training here:
Former President of the United States Barack Obama is also very athletic, known for his basketball game. Watch this video as he sinks a 3 point shot playing with troops:
Wrestling and Judo background
His father was a wrestling coach, so this gave him an early advantage over his peers. Battulga would compete for the national wrestling team throughout the 80's, and he won the world cup championship in 1989. He traveled the world competing, and in 1995, he was awarded the Merited Sportsmen of Mongolia, following that up with chairing the Judo Federation.
What is Judo?
Judo is one of the more challenging martial arts combining moral, mental, and physical practices. It was created in Japan in the 1880's and has turned into a modern martial art which is now seen in the Olympics. The objective is to throw or take your opponent to the ground, pin them, or lock/choke them into tapping.
Judo is now the #1 most popular sport in Mongolia thanks to Battulga popularizing it, and in 2008, Tuvshinbayar Naidan won the Gold Medal at the 2008 China Olympic games under his leadership. You can watch the memorable match here:
Training for Judo is fascinating. It involves things like weighted rope climbing, running, baseball bats to the body, pushups, situps, weight training, rolling, hitting, and a lot of pain. In this video, Battulga shows you what it takes to make it in Judo:
Steroid use
Law enforcement has seen a big rise in smuggling of steroids into Mongolia in recent years. It is no secret that wrestlers and Judo athletes have failed many doping tests in their country, yet the penalties are not strict. It is very easy to cross the border and get steroids visiting Russia for example.
The question is did Battulga use steroids while he was competing in his younger years? The answer is most certainly yes. Due to the Russian influence at the time, steroid use during the 80's and 90's was as regular as apple pie in America. He would have had to maintain his weight class, and with that in mind, here is what we think he would have used during his wrestling success.
Khaltmaagiin Battulga Steroid Cycle *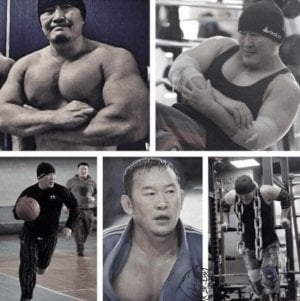 Forums
Join the Evolutionary.org forums and have your say on Khaltmaagiin Battulga Steroid Cycle!
*DISCLAIMER: The cycle above is our opinion on what Khaltmaagiin Battulga could have used, this is for information and entertainment purposes only. There is no direct evidence that Khaltmaagiin Battulga used steroids or any other drugs. This article is our freedom of speech.
Get more information about News, Doping, SARMS, Steroids, HGH and PDS...
Subscribe to our Underground Evo mailing list and get interesting news and updates directly to your inbox.
Thank you for subscribing.