Medical Review Board
The Evolutionary.org medical affairs board is a team focused on ensuring high quality content is checked by our physicians, public health experts, patient advocates, bodybuilders, fitness training, fitness experts and moderators. Our dedicated medical review team has a medical network and integrity network built into the basis of it.
As the most trusted and visited bodybuilding and fitness website in the world, Evolutionary.org goes beyond high standards to ensure high quality content meed strict review conditions.
We have the highest editorial standards in our industry, with over 4000 hours spent re-editing and rechecking every article in our extensive database by our health and fitness professionals.
MEET OUR TEAM
Dr. Chekanov Nikolai
Dr. Chekanov Nikolai Is a leading hormonal specialist with over 10 years of experience in testosterone replacement therapy TRT and hormone replacement therapy HRT for both men and women. He is the editorial head of our medical review board, advising on the validity and medical references on all data provided in content.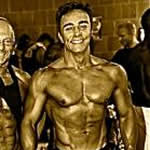 Nelson Montana
Nelson Montana is a classical bodybuilder and an industry expert. He was one of the first in the 1990s to write about bodybuilding. He's written for large magazines, like T-Nation and has been on multiple editorial boards. Nelson is a certified personal trainer, he has over 40 years of experience, and he's a senior bodybuilding champion, natural! He's over 60 and he looks amazing
Dylan Gemelli
Dylan Gemelli is a Certified personal trainer and Coach. He has over 15 years of experience in bodybuilding, fitness, training and coaching. He's worked with multiple movie stars, IFBB pros and fitness celebs on their training and diet. He's helped set up cycles for the greatest in our industry. He holds the following qualifications: NASM Personal Trainer NASM Corrective Exercise Specialist AFAA Group Fitness NASM Fitness Nutrition Specialist NASM Weight Loss Specialist
Steve Smi
Steve Smi (Also known as Steve Smith), has over 12 years of experience in the bodybuilding and fitness industry. He's the co-Host of the popular Evolutionary Radio Podcast - over 500,000 listens! He has been a personal trainer and writer for the last 10 years with over 1000 articles written. He's been a moderator on forums for over 10 years. Steve holds the following certifications and records: NASM Personal Trainer NASM Fitness Nutrition Specialist Florida Local Powerlifting champion Top writer for 2019 Fitness rated
Matt Ashlar
Matt Ashlar is a full time dad and an amazing bodybuilder. He has over 10 years of experience in bodybuilding, fitness, TRT and sarms. He's been at the forefront of supplement design and industry leaders. He has trained many bros in the community and helped guys iron out their cycles. He's a true PhD in our industry. He has the knowledge and the looks.
Mike Snow
Mike Snow is an NPC champion with 18 shows under his belt. He took multiple 1st placing at NPC regional bodybuilding shows. He has a diploma from Stanford SCHE exercise and Physiology courses. He holds NASM and ACE personal training certifications and he's working to get his ISSA certification this year.