The most important factor that one should consider any time they are running a steroid cycle or using supplements is their SAFETY. Protection against any and all side effects that are possible is of the utmost importance. Without the proper protection, we are all exposing ourselves to potential short and long term side effects that could only lead to further problems. The problem is that many different products can have multiple side effects and then the probability of having to take multiple products to protect ourselves is more likely. This can not only get confusing, but quite expensive as well. Having to take different sets of pills, different times, different bottles, can be confusing, stressful and lead one to make an error in what they need to be taking, thus resulting in an increased chance of problems. This is where N2GUARD comes into play. N2GUARD may just be the most important and vital part to any cycle that you run. N2GUARD offers COMPLETE protection as opposed to simply covering one or two problem areas that could arise. Here is the rundown of the benefits N2GUARD can provide to you:
Cholesterol Control
Blood Pressure Regulation
Anti Water Retention
Ergogenic Adaptogens
Antioxidant and Cell Repair
Receptor Up-regulation
Liver Protection
Complete RDA of Vitamins and Minerals
Better Kidney Function and Protection
Enhances and Protects these Major Organs: Circulatory System, Excretory System, Immune System, Muscular System, Nervous System, Reproductive System, Skeletal System, Digestive System
Some of the most prevalent worries that one can have when they are "ON" is their blood pressure, liver and lipids. These are all taken care of when using N2GUARD. Another wonderful benefit is lowering bad cholesterol while increasing good cholesterol and also removing excess water bloating.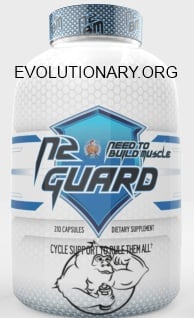 N2GUARD also contains additional components that PREVENT EXCESSIVE OXIDATION AND PREVENT RECEPTOR DOWN REGULATION.
AS A RESULT OF THIS, YOU NOT ONLY PREVENT PHYSIOLOGICAL PROBLEMS BUT YOU ACTUALLY MAINTAIN THE ABILITY TO GROW AS MUCH AS POSSIBLE.
Only one serving a day of N2GUARD offers all of these benefits. Your health and safety should always be your number one priority. This should make using N2GUARD a no-brainer and a must have for everyone.
I cannot say enough about the strength and benefit of this product. I have never encountered a product so complete and beneficial in this category. I fully endorse this product and recommend it everyone. This product can be run year round and will offer benefits to any and all users. Take advantage of protecting your health and try N2GUARD!
Get more information about News, Doping, SARMS, Steroids, HGH and PDS...
Subscribe to our Underground Evo mailing list and get interesting news and updates directly to your inbox.
Thank you for subscribing.