Nate Diaz, the American professional mixed martial artist currently competing for the Ultimate Fighting Championship, has found himself again in trouble with the United States Anti-Doping Agency (USADA).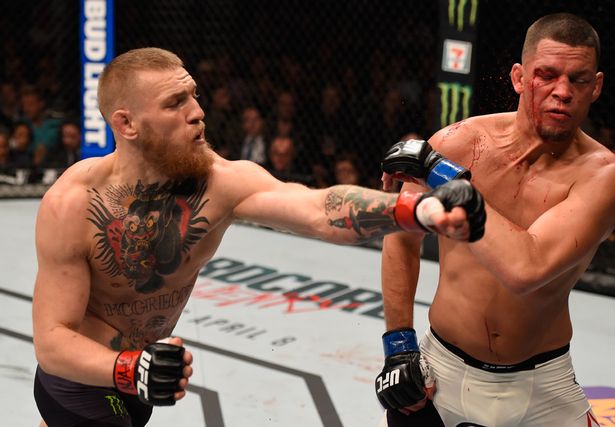 The winner of The Ultimate Fighter 5 was seen smoking a vape pen containing oil similar to medical marijuana during his post-fight press conference after suffering a majority decision defeat by Irish professional mixed martial artist Conor McGregor at UFC 202. The Stockton fighter was visibly battered after the contest. Diaz revealed the vape pen had CBD oil and explained he was smoking the vape pen as it helps with the healing process and inflammation. CBD oil is a pain-relief product having similar properties to medical marijuana used to help ease physical pain and trauma. CBD has been used to treat epilepsy and schizophrenia and it has fewer side effects than THC and does not cause any psychoactivity according to studies. Cannabidiol is one of 113 active cannabinoids in cannabis.
Cannabinoids are included on the banned substance list of USADA during in-competition timescales that includes six hours before any fight and six hours after. The 31-year-old could find himself in trouble and may possibly face a suspension as the press conference took place immediately after the bout.
Under Nevada State Commission rules, the in-competition period expires once the final post-fight sample has been given. However, the agreement of USADA with the UFC states that a limit of six hours after a fight is enforced before the in-competition phase expires. Under the UFC anti-doping policy, Cannabis is considered a "specified substance" that means it is not an anabolic or hormonal agent but is still prohibited in certain cases, like in-competition and any fighter violating the policy for a specified substance can be banned for up to one year. USADA can give cannabis users in-competition anywhere from a public-warning sanction to a one-year suspension depending on circumstances.
The United States Anti-Doping Agency confirmed it is presently investigating the case. Diaz could face suspension after openly explaining the details of the substance inside the vape pen.
A USADA spokesperson said the use is officially considered to have happened "during competition" since the press conference during which Diaz soothed his likely throbbing face by sipping his pot pen happened within six hours of the match. The USADA website explains the use of prohibited substances in sport, without an approved Therapeutic Use Exemption (TUE), may lead to an anti-doping rule violation and sanction.
The troubles of Nate could exaggerate after he and brother Nick Diaz attended a Snoop concert in Concord and Diaz sent out an image of himself holding what has been reported as a rolled up joint. However, there is no footage of him smoking the cigar-like stick.
Nate Diaz has never failed a drug test in his MMA career. The younger brother of former Strikeforce Welterweight Champion and WEC Welterweight Champion, Nick Diaz competed in World Extreme Cagefighting, Strikeforce, and Pancrase prior to signing with the UFC. Both Diaz brothers currently run a Brazilian jiu-jitsu school in Lodi, California.
Get more information about News, Doping, SARMS, Steroids, HGH and PDS...
Subscribe to our Underground Evo mailing list and get interesting news and updates directly to your inbox.
Thank you for subscribing.