BREAKING NEWS: Super Bowl hero Julian Edelman suspended 4 games for PED's.....
New England Patriots receiver Julian Edelman is facing a 4 game suspension for getting caught violating the NFL's policy of performance enhancing substances (PED's), according to league sources. Although the suspension is currently under appeal (as is any NFL players right to do), it is likely to stand based on recent history of such violations. Edelman will have to sit out the first 4 games of the upcoming season without pay, meaning he will lose about $500,000. The teams the Patriots will face are Houston, Jacksonville (AFC Championship rematch), Detroit, and a critical division game vs. Miami. He will be allowed to come back for their 5th game, and if he violates it again, will face an even greater suspension.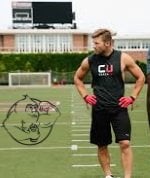 Career
College and first few years as a professional...
Although Edelman is now playing receiver (meaning he catches passes), you may not know that he was a quarterback in college. This meant he threw the ball and scrambled. He played for Kent State in a run-heavy offense. A 3-year starter at quarterback, he liked to tuck the ball and run downfield. He was very fast and would lead his team in rushing his senior season, in addition to throwing for 13 touchdowns with 11 interceptions.
Edelman applied for the NFL draft, and his stats were 5'10" 195 pounds. He ran a 4.52 40 yard dash (very fast for a QB), ran an impressive shuttle and cone, and had very fast 10 and 20 yards split time. He also bench pressed 225lbs for 14 times. Although teams were impressed with his quickness, he was not invited to the NFL combine, as he simply did not have the talent to be a professional quarterback.
Nevertheless, the Patriots drafted him in the final round of the draft and analysts speculated he would play in the wildcat formation as a running quarterback. During training camp, he showed very good hands and quickness, so the Patriots turned him into a returner and slot receiver. During the preseason, he earned a job with the team as their returner, and emergency receiver, by outplaying his more experienced teammates. His first game he would shock everyone, by catching 8 balls for 98 yards, plus he returned punts and kicks. Although he showed a lot of potential, he wasn't quite ready to be a full-time player yet, and would be a backup and returner his first 4 years in the league.
2013 season breakout
In the 2013 season, he would finally breakout, becoming the Patriots starting slot receiver. He caught a whopping 105 balls for 1056 yards with 6 TDs. He would go on to be Tom Brady's favorite receiver, being a critical component to Super Bowl Championships in the 2014 and 2016 seasons.
Edelman would have his best season in 2016, catching 98 passes for 1106 yards and 3 TDs. When the team needed a huge play, he was always the guy they went to, and he was their super bowl hero when he made an amazing catch (which was initially ruled incomplete). It is considered one of the greatest catches in Super Bowl history and likely saved the game for them. You can watch it here:
You can watch a video of his career highlights here:
Injury
The next season Edelman was poised to have an even greater season, but disaster struck during preseason vs. the Lions when his leg awkwardly would bend:
Initially, the team thought it was just a knee sprain as he was able to walk off the field. What happens a lot with ligament injuries is you do not know the damage until an MRI is done.
The team's fears were confirmed when the MRI showed he completely tore his ACL in his knee, and he would have to miss the entire season. The Patriots missed him greatly and fell just short of winning another Super Bowl.
2018 suspension
Edelman worked extremely hard to rehabilitate his knee injury to be ready for training camp and was on schedule to be fully ready. He even showed up to offseason practices and was running well, but news broke on June 7 that he will be suspended for PEDs.
Edelman is quoted as saying "I am very sorry- I don't know what happened." He also said that he had taken 'many, many tests' over the course of his career and nothing like this has ever happened. He apologized to the owner, coaches, teammates, and fans.
It is good to note that Edelman is playing in the final year of his contract. Meaning after this season, he is free to sign with any team, and will likely choose to go to whoever offers him the most money, as he already has won Super Bowls. This suspension is major because if he is caught again he would be suspended even longer, so teams may be reluctant to offer him a lot of money. Also, due to his contract situation, he likely felt under pressure to recover quickly by using PED's to show that he was healthy.
The NFL has a policy to not reveal what a player is busted for, but we can speculate his steroid cycle in the offseason looked like this: (* disclaimer)
A personal note: I believe almost ALL NFL players use performance enhancing drugs! 99%. It's just that some get caught and some don't.
Forums
Join the Evolutionary.org forums and have your say on Julian Edelman Steroid Cycle!
*DISCLAIMER: The cycle above is our opinion on what Julian Edelman could have used, this is for information and entertainment purposes only. There is no direct evidence that Julian Edelman used steroids or any other drugs. This article is our freedom of speech.
Get more information about News, Doping, SARMS, Steroids, HGH and PDS...
Subscribe to our Underground Evo mailing list and get interesting news and updates directly to your inbox.
Thank you for subscribing.