Nine-time Olympic and eight-time World champion, Carl Lewis, has called for a universal crisis management and testing system for rescuing athletes from doping.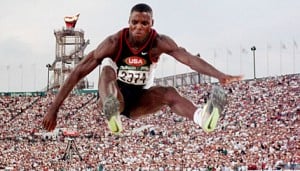 The retired American athlete, speaking during a one-day tour to Kenya as a keynote speaker of IBM Business Connect 2014 in Nairobi, accused IAAF and member federations of missing a coordinated approach to deal with the substance abuse menace. Lewis said they should focus on what is the most important thing for our business model to be successful. He said we can care about people, that really where it starts unless you have a core understanding of what you are trying to accomplish you can't do it. Lewis added if you don't know the question how you can have the answer that is what is wrong.
The American former track and field athlete and United Nations Goodwill Ambassador said track and field flounders in this area if we don't know what to do if we have drug problems, we can't do anything, we are afraid of it, no, and we have to be serious. Lewis also claimed the scourge was fueled by lack of a universal drug testing procedure and remarked he said five years ago that there was inconsistency in a lot of programs around the world and they asked me about Jamaica and he said they are not testing the same way like the rest of the world is. He added Jamaica would not have credibility until they do that and said they last year announced that they did not test anyone for six months because they said they did not have the money.
Lewis urged the authorities to save the credibility of Track & Field by sensitizing the masses on the fool-proof measures such as biological passports for combating substance abuse. He said there is no plan and there is no global idea of what to do and they are not telling their message. He added one thing we have is the passport where they test you and continue to test your sample years in advance and that be the one he would be trumping right now saying look, we are so concerned and we will take down our top guy if we have to.
Frederick Carlton "Carl" Lewis won 10 Olympic medals, including nine gold, and 10 World Championships medals, including eight gold. A dominant sprinter and long jumper, Lewis was named Athlete of the Year by Track & Field News in 1982, 1983, and 1984. Carl Lewis was voted "Sportsman of the Century" by the International Olympic Committee and being named "Olympian of the Century" by the American sports magazine Sports Illustrated. By the start of 1984, the athlete was one of the biggest sporting celebrities in the world and had a desire to equal the legendary Jesse Owens.
Lewis's name appeared in controversy when Dr. Wade Exum, the United States Olympic Committee's director of drug control administration from 1991 to 2000, in 2003 gave copies of some documents to Sports Illustrated that revealed that some 100 American athletes who failed drug tests from 1988 to 2000 but this case was dismissed by the Denver federal Court for lack of evidence. It is believed that Lewis tested positive three times at the 1988 Olympics Trials for minimum amounts of pseudoephedrine, ephedrine, and phenylpropanolamine, which are banned stimulants and bronchodilators.
Get more information about News, Doping, SARMS, Steroids, HGH and PDS...
Subscribe to our Underground Evo mailing list and get interesting news and updates directly to your inbox.
Thank you for subscribing.