Colombian racing cyclist Sergio Henao has been temporarily withdrawn from racing over his out-of-competition test results. The 26-year-old was withdrawn by Team Sky and will be subject to an "altitude research program", according to an announcement by Team Sky.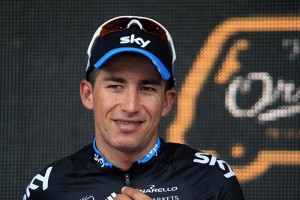 The rider has been withdrawn for eight weeks, which would mean Henao will not be starting the season's opening Grand Tour, the Giro d'Italia, which begins in Belfast on May 9.
Last October, Henao returned to his native Colombia for winter training and the rider underwent a series of World Anti-Doping Agency's accredited tests while living and riding at high altitude. The staff members of Team Sky who were responsible for monitoring the physiology of their riders on a monthly basis expressed their concerns about the results of those controls. Team Sky has consequently highlighted them to both the International Cycling Union (UCI) and the Cycling Anti-Doping Foundation (CADF).
Team Sky Principal Sir Dave Brailsford said in a statement that our experts in our latest monthly review had questions about Sergio's out-of-competition control tests at altitude - tests introduced this winter by the anti-doping authorities. We need to understand these readings better. Sir Brailsford added we contacted the relevant authorities - the UCI and CADF – pointed to these readings and asked whether they could give us any insights and also added that we have also taken Sergio out of our race program whilst we get a better understanding of these profiles and his physiology. The next step of Team Sky will be to find out the effects of training at altitude, working in conjunction with WADA and Henao, who will make a return to Colombia for further testing.
Brailsford added Sergio was raised in the mountains, goes back in winter and lives and trains at different levels. He added we have looked as far as we can at the effects of this, but our own understanding is limited by a lack of scientific research into altitude natives such as Sergio. The Team Sky Principal also remarked we are commissioning independent scientific research to better understand the effects of prolonged periods at altitude after returning from sea level, specifically on altitude natives and the independent experts are looking to use WADA-accredited laboratories and Team Sky will make the data and findings available to WADA, the UCI, and CADF. Brailsford added Sergio will help with this program and we expect him to be out of the race schedule for at least eight weeks and once we have completed our assessment, we will decide on the right steps and give a full update.
Henao won two stages of the Junior Vuelta del Porvenir in 2005 and finished second in the junior Vuelta a Venezuela. The rider was selected to be part of Team Sky's Giro d'Italia squad in May 2012 and wore the White Jersey of the best young rider for two days and got two top ten stages finishes (4th on Stage 15, 9th on Stage 20). Henao, for the 2014 season, was joined at Team Sky by his cousin Sebastián Henao.
Get more information about News, Doping, SARMS, Steroids, HGH and PDS...
Subscribe to our Underground Evo mailing list and get interesting news and updates directly to your inbox.
Thank you for subscribing.