Introduction
Shahriar "King" Kamali is an Iranian American former professional bodybuilder and current personal trainer. While active, he was a well respected bodybuilder known for his size/mass during his 12-year career, having many achievements under his belt. To this day, he is still very active in the bodybuilding community with a long list of transformations he has helped people with. In this article, we will talk about his life, successes, and steroid use.

Early life and entry into bodybuilding
Kamali was born and raised in Iran in 1972. He loved sports and this led him to bodybuilding which he fell in love with after he had such rapid results in weight training. He earned a degree in Exercise Physiology then begun his bodybuilder career. He started to travel to compete in bodybuilding shows across the world from 1994 at the age of 22 until 2006. His peak stats were 5'10'' and 235 pounds with 19" arms, 50" chest, and 36" in the waist.
Competition results
Kamali won the NPC Collegiate Nations overall in 1994 at the age of 22. Two years later he started his run at the NPC's in 1996 and finished 10th, 7th, 3rd, and then 1st place in 1999. in 2001, he got 4th place at the Arnold Classic and 10th place at Mr. Olympia. The next year he got 17th place at Mr. Olympia. He competed in some of the toughest competitions until 2006, his best showing later in his career being 5th place at the Ironman Pro in 2005.
Training
It all begins with picking up the iron. I have grown by myself with my own effort, so I was able to learn what training style works for me, and which styles do not. Therefore, it's very important for an athlete to have a wide variety of training programs that successfully support his or her goals. Much like the use of anabolic steroids and supplementation, physical training is something that should be cycled in order to prevent the buildup of muscle memory. By cycling training, you are not letting your body adapt to the current training program. Read More...
Kamali believed in 3 factors when it came to his training.
Power
In today's world, there is never enough time to do anything. Never enough time to train, never enough time to eat and certainly no time to rest. However, the biggest problems we face today is with our basic lifestyle. Guys are running cycles, pumping arms, legs and chest but have weak core muscles. All the pains and problems we experience, from sitting too much at the PC or in the car, come from weak core muscles. Read More...
Discipline
Intensity
He has spoken since his retirement about his frustration with others who use steroids as a crutch to cover up a poor training style. An example of his training days were 20-25 sets along with 20-30 reps, sometimes going as high as 40 reps.
He liked to up his cardio to a lot of high intensity leading up to a show to help burn fat. The key is fasted cardio first thing in the morning, which he believes helps you burn all day long and is the best way to burn fat. He talks about it here and says he does it almost every day:
His cardio protocol:
15 minutes of warmup
My morning are amazing less stressful when I bookend my 30min @onepeloton run with 15 minutes of warmup and fifteen minutes of cool down.

This may also be an hour where I'm not trying to make the kids move faster than slugs … 🤷🏽♀️ pic.twitter.com/YaIuhuBnVR
— Andy Ellis (@csoandy) October 7, 2020
30-45 minutes you are starting to burn fat
After that, you are burning fat so you must go a long time with cardio according to him. He says he had to do fasted cardio while he was competing and had to pay his dues, and he would have to hire someone to stand next to him to punch him to keep him from falling over, that is how depleted he was.
Nutrition
In the last 30 years, the popularity of the high protein/high carb/low-fat diet has grown to epidemic proportions among bodybuilders and strength athletes. The average Joe bodybuilder is steaming fish, separating egg yolks from egg whites and cutting out the visible fat from juicy stakes, but why? The anecdotal evidence behind high protein/high carb diets shows how brutal they are; guys are losing muscle mass, getting depressed and losing all motivation.Read More...
Kamali has spoken about eating a lot of food when he was in his prime. 6-8 meals a day was standard for him and his diet consisted of bodybuilding staple foods such as:
Chicken, oatmeal, fruit, steak, vegetables, fish, and rice.
Student Athletes:

Include staples in your diet. These are some great cheap options for athletes to cook meals:
Bananas, oatmeal, eggs, rice, potatoes, chicken thighs, tortillas, Greek yogurt, frozen sausage, frozen veggies, 80/20 ground beef, pasta, bagels, beans, chili.
— Andrew (@athlete_growth) July 8, 2021
He also has talked about how many people fail to diet correctly which cheats them on success.
Ahead of competitions his strategy was reducing his carb intake and eliminating all sugar from his diet. He also is obsessed with water intake, digestive enzymes, and eating smart which he talks about frequently in his videos and on his social media.
Social Media
Kamali is and alive and well and has close to 100K followers on Instagram. He offers personal training and his page is littered with transformations from all his clients along with a lot of food pictures of healthy food. Much of the foods he lists are fruit, water, chicken, beans, rice, and steak.
He also is a popular interview among various bodybuilder youtube channels and seems to be very open about his thoughts on steroids and other taboo topics such as the state of today's bodybuilding and how important family is to him.
Steroid views
Kamali believes that people who get so upset when accused of steroid use are really on steroids. He also says that even common people, both female or male, who are in normal gyms are even on steroids. Another belief is that people who compete in natural shows even find ways to use steroids.
He has admitted to using megacycles of steroids along with growth hormone and insulin and freely admits even to this day he runs what he calls 'maintenance doses' of steroids, and if he were to go back on his megacycles again, he thinks he could easily shoot up over 300 pounds if he wanted to.
Kamali admits he did not care about his health when he was competing because he freely admits he would have rather stayed ignorant about his health due to what he says is the 'idiocy of the tunnel of the road we go down'. He would use tons of steroids and other drugs, and also party, however, he says he never once drank but he did party drugs especially ecstasy. He says his mentality changed when he became a father and took his health more seriously. However, he says he became very depressed stepping away from bodybuilding and steroids but remembered how much he loved his family and used that energy on helping others.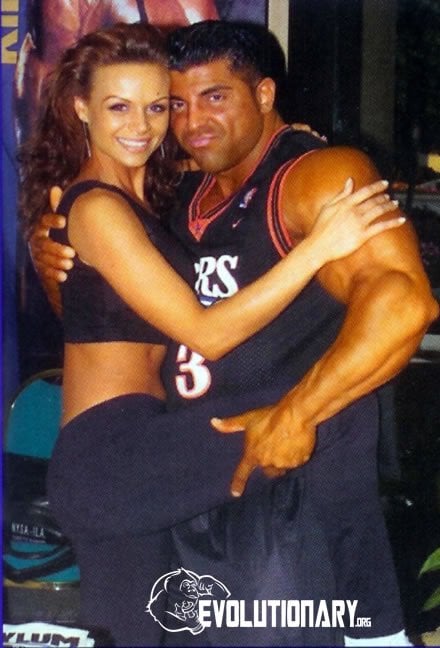 Opinion
Kamali's honesty is pretty cool, especially when you consider he trains people for income today. He could have easily claimed that he got his physique via his secret amazing strategies, but contrary to that he talks a lot about genetics and how important steroids are in bodybuilding. I also like that he doesn't peddle his personal beliefs for clicks or crappy cookie cutter supplements via social media. For this, I consider him one of the most honest former bodybuilders out there.
Pro Cycles
We already know that Kamali was taking a lot of PED's, this is a speculation of what his megacycle looked like:
1200mgs a week Trenbolone
800mgs a week Testosterone
1200mgs a week Equipoise
1000mgs a week Masteron
150mgs a day Anavar
125mgs a day Winstrol
25Iu's per day HGH
15Iu's per day Insulin
Forums
Forums on our forums? read on:
References
DISCLAIMER: The following article is for entertainment purposes, Shahriar King Kamali has not publicly admitted to using steroids and HGH as far as we are aware. His cycle is not a fact and it's our views on what he used and what steroids he took.
Get more information about News, Doping, SARMS, Steroids, HGH and PDS...
Subscribe to our Underground Evo mailing list and get interesting news and updates directly to your inbox.
Thank you for subscribing.