Yuliya Mikhailovna Zaripova, the Russian middle-distance runner who specializes in the 3000 metres steeplechase event, faces being stripped of her gold medal from the 3,000m steeplechase at the 2012 London Olympics. The doping case of Zaripova was based upon irregularities in her Athlete Biological Passport (ABP) profile.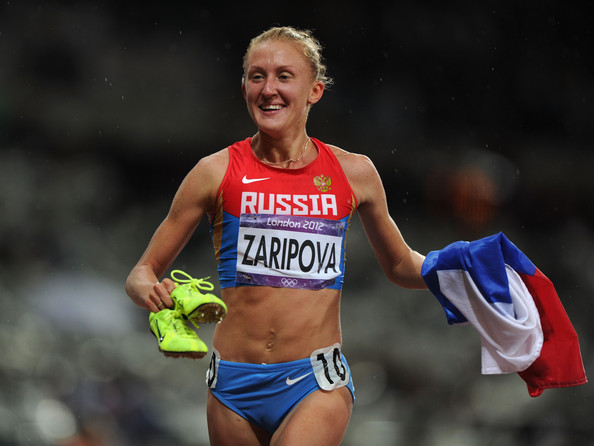 The gold of Zaripova would become the fourth London Olympic medal to be reallocated and the second gold after that of Nadzeya Ostapchuk, the Belarusian shot putter.
Yuliya Zaripova was banned by the Russian anti-doping agency for two and a half years after she tested positive for a banned drug. The suspension was backdated from July 2013 that leaves Zaripova eligible to compete in next year's Olympics in Rio de Janeiro. Russia's anti-doping agency said the results of Zaripova would be annulled for parts of 2011 and 2012, dates which include her Olympic victory but not her world championship gold medal in 2011.
In another development, Olympic heptathlon bronze medalist Tatyana Chernova was also banned by Russia's anti-doping agency. Chernova was caught in a retesting of drug samples from the 2009 world championships. It was disclosed by RUSADA that Chernova had tested positive for the banned steroid Oral Turinabol when a sample from the 2009 world championships was retested. She was given a two-year ban backdated to 2013, with results annulled between August 2009 and August 2011 but she was allowed to keep her 2011 world title.
Recently, the Russian Anti-Doping Agency (RUSADA) banned three Russian Olympic race walking champions - Sergei Kirdyapkin, Valery Borchin and Olga Kaniskina - for abnormal indexes of haematological profiles in their biological passports.
Valentin Maslakov has already resigned as chief coach of Russian athletics, a post he had held since 2007.
After the suspensions were announced, the Russian athletics federation president, Valentin Balakhnichev, announced that he could submit his resignation at a board meeting on 17 February. Balakhnichev, a member of the ruling Council of IAAF since 2007 and a former vice-president of European Athletics, was the national athletics coach of the Soviet Union between 1978 and 1984.
The 65-year-old has been under pressure ever since a German documentary claimed that 99 percent of Russian athletes have been taking illegal performance enhancing drugs. The documentary featured serious allegations by 800 meters runner Yulia Stepanova, who has also been banned for a doping violation, and Vitaly Stepanov (her husband), who had worked for RUSADA between 2008 and 2011. It was also alleged that Liliya Shobukhova, the second fastest marathoner in history, paid $450,000 (£300,000/€400,000) to avoid a doping ban. Liliya was a three-time winner of the Chicago Marathon and London Marathon champion in 2010 before her results were annulled. In the documentary, 800-meter gold medal winner Maria Savinova and bronze medalist Ekaterina Poistogova were recorded admitting to taking banned substances. They have not been suspended and remain free to compete.
In a statement, the International Association of Athletics Federations said the doping cases of Zaripova and Chernova are the latest illustration of the robustness of the IAAF anti-doping program.
Get more information about News, Doping, SARMS, Steroids, HGH and PDS...
Subscribe to our Underground Evo mailing list and get interesting news and updates directly to your inbox.
Thank you for subscribing.