On April 3rd, 2017 a judge in Georgia ruled that Hi-Tech Pharmaceuticals Inc DMAA products were adulterated and could be seized by the FDA.
Background and History
DMAA is short for 1,3-dimethylamylamine or geranium extract, which is touted as a natural stimulant and has a reputation for causing incredible side effects, including addiction and even death. The most popular way to use it is pre-workout to get a very wired effect while working out (amphetamine-like), and it is typically used as part of a supplement stack. In 2012, the FDA started to crack down very hard on supplement companies using DMAA in their supplements, and the next year Hi-Tech Pharma had millions of their products seized by the FDA without warning. Since then Hi-Tech has been at war trying to prove that DMAA is a natural supplement and should not be banned. Fast forward to earlier this year and Hi-Tech was very confident they would win their case with the FDA. Unfortunately for them, it appears they were wrong.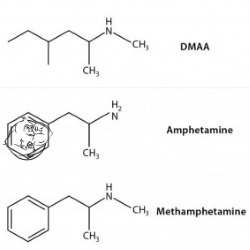 What happened in court
Hi-Tech argued in their lawsuit against the FDA that DMAA is a natural extract of the geranium plant, so it should qualify as a dietary ingredient. However, the federal judge ruled that DMAA is actually only present "at best in minuscule amounts and has never been extracted from geranium plants for commercial purpose." This observation is a huge blow to the idea that DMAA is naturally occurring in plants. Lawmakers have long made it a rule that there must be a history of a substance in question having been extracted in usable quantities from a plant or plant organism.
Hi-Tech admits that their supplements contain synthetic DMAA; however, they are adamant that the courts understanding of the term 'botanical' in federal law is unfounded. Also, they disagree with the judge that DMAA was never directly extracted from nature. What may have made it hard to rule against the FDA was that only trace amounts of DMAA were detected in geraniums to the tune of fewer than 500 parts per billion, so it hard to claim DMAA is naturally found in nature.
More confusion and disagreement
To add to the insanity of this case, the judge wrote that congressional law says that you can't take a chemical that was made in a lab, then scour the globe to find a tiny amount of chemical in 'obscure plants' so you can declare the substance a dietary ingredient. Hi-Tech countered that this example was not applicable to DMAA because DMAA was found in "common geraniums that have been found in the food supply for decades."
Appeal process
After the April 3rd ruling, Hi-Tech has said they will file a motion to reconsider, then if necessary lodge an appeal with the 11th Circuit in Georgia, and even take their case to the US Supreme Court. In the USA, the Supreme Court makes final decisions on court cases, and it can overrule lower court rulings; however, it is very difficult to get any case all the way there. This threat by Hi-Tech will buy them more time where they can continue selling DMAA for several more years, according to law experts. However, this does not mean the FDA will not go after other companies who will be too skittish to attempt such a long fight.
To summarize: Hi-Tech will have 28 days to file a motion to reconsider. If they lose that, they will appeal to the 11th Circuit and have threatened to take matters to the US Supreme Court. This entire process may take years unless they throw in the towel before then.
More DMAA news
Also in the news the same week was the owner of Gentech Pharma accepting a plea deal, where his company sold and marketed unlabeled DMAA. The owner Derek Vest, faces up to 3 years in prison, 3M in asset forfeiture, and a large fine. He will be sentenced in July.
Vest had started up a company in 2010 based out of Florida, and from at least April 2013 through November 2014 sold misbranded products as weight loss supplements, which contained DMAA (unlabeled). Mislabeling of supplements is against the law under the FDCA Act and can result in recalls on products, fines, and even jail time.
References
Get more information about News, Doping, SARMS, Steroids, HGH and PDS...
Subscribe to our Underground Evo mailing list and get interesting news and updates directly to your inbox.
Thank you for subscribing.