Better known by her short name Cass, Cassandra Martin is one of the most popular female fitness celebrities in the social media world. Cass is 27 years old, she is 5'5" tall, and her lean weight is 130 pounds. After graduating from college, and before she became a fitness celebrity, Cass Martin was working in the construction industry together with her boyfriend. However, since she was a teenager she loved sports, and this would determine her professional future.
Introduction to fitness
When she was 23 years old, Cass Martin saw a picture of Jamie Eason on the cover of a fitness magazine, which inspired her to train in the gym with the help of her boyfriend. Her goal was to build a rock hard body like Eason, which she did by getting leaner and gaining muscle mass.
It did not take her long to fall in love with bodybuilding, and she started to sympathize another popular female athlete - Dana Linn Bailey, whose footsteps she wanted to follow. As a result of her hard work, a year later, Cass had made amazing progress, and she gained recognition in the fitness community.
Social Media popularity
In spite of the fact that she has been in fitness for less than four years, she currently has whopping 1.2M followers on Instagram (https://www.instagram.com/casssmartin/?hl=en). That is an imposing figure since it is more than even extremely well known male fitness celebrities have, including Rich Piana with 1.1M followers. What is even more amazing, is that Cass started her Facebook page less than two years ago, and she has a huge fan base there as well.
In addition, Martin's videos are also scattered across YouTube, where she is shown lifting weights and posing. Her most viewed videos show Cass lifting some incredible weight for her size and winking at the camera as she shows off her impressive biceps.
Training style
Cass Martin comes from the Ronnie Coleman school of lifting heavy weights. In fact, Coleman was someone she followed very closely to learn about bodybuilding. She strives to train six days per week going heavy while mixing up her workouts to keep things fun, and 'throwing off' her body.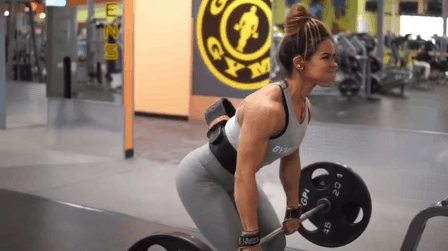 For instance, she will incorporate fewer reps and high reps in her workouts, with the common denominator being always pushing the body to the limits by going heavy. Nonetheless, Martin's split routines are a bit unconventional in that she focuses on one area of the body once a week. For example, she will work her chest one day, back the next, and arms on the next day instead of doing a 2 or 3-day split. This allows her to focus on that one body part and allow it to rest while she hammers other areas of the body on the other days.
Nutrition and supplementation
Cass Martin says that she follows a basic and consistent diet. However, unless she is specifically cutting down, Cass does not fear things like carbs or red meat, which is not the case with others in the fitness industry. Regarding the number of daily meals, Cass is more conventional, as she likes to have six meals a day, all of which are clean.
An example of Cassandra's breakfast during a lean bulking phase would be: 2 whole eggs, 4 egg whites, and a 3oz grass fed beef burger. At the same time, her typical dinner would be a 5-ounce steak, rice, and green veggies.
When she is cutting down her diet consists of eggs, raw oats, and green veggies. Therefore, during this time she cuts off all red meat, and obviously, she eats zero junk food.
Cassandra likes a supplement stack that includes a high-quality multi vitamin, whey protein, and a pre-workout.
Inspiration to females
Unfortunately, many individuals in the fitness industry look down on women, since these individuals do not view weight lifting as feminine. However, Cass Martin has shown that you can lift weights, be strong, and yet still maintain a feminine and beautiful body. Consequently, she has inspired many females and males, which has led to the explosion of her fan base in a rapid fashion. In fact, many men say that their wives got into fitness thanks to Cass Martin.
Steroid Stack
Cass Martin is very strong for her low weight. There is no doubt that genetics and hard work play a huge role in her success, but to be at such a high level the use of performance enhancers is a necessity. A speculative steroid stack * for her would look like this:
Year round stack:
10-week blast stack:
Forums
Want to discuss Cass Martin on our forums? click here and discuss her...
*DISCLAIMER: The cycle above is our opinion on what Cass Martin could have used, this is for information and entertainment purposes only. There is no direct evidence that Cass Martin used steroids or any other drugs.
Get more information about News, Doping, SARMS, Steroids, HGH and PDS...
Subscribe to our Underground Evo mailing list and get interesting news and updates directly to your inbox.
Thank you for subscribing.