Diego Maradona is thought to be the greatest soccer player of all time, sharing with Edson do Nascimento (Pele'), as FIFA's best player of the 20th century. He set the original two records for the highest transfer fee (similar to a trade in other sports), and he is most famous for playing for Napoli, Barcelona, and his countries World Cup team. He was only 5'5" tall, but this worked to his advantage, because he had a low center of gravity which helped him maneuver around other players with ease.
His nickname was "El Pibe de Oro", which translates to "The Golden Boy".
Early life and success
Maradona was born into a poor family near Buenos Aires, Argentina in 1960. He would play soccer with his brothers (who also had professional careers) in the local clubs. At only 8 years old, a scout saw him play and recruited him to play for the Argentinos Juniors. Then at 12 years old, he became a local celebrity for his amazing dribbling and skill.
One week prior to his 16th birthday he made his professional debut, and 3 weeks later he would score his first goal. He would go on to score 115 goals in 167 games over the next 5 years, and would get many offers to join other clubs. Maradona would take less money to join Boca Juniors, which was his childhood dream team to play for. Two days later he scored twice to lead them to a 4-1 victory. His team went on to win the league title in the Argentine domestic league.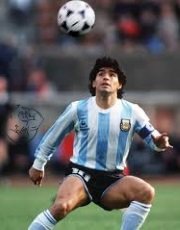 Maradona was transferred to Barcelona in Spain for a world record $7.6M. He led his team to a Copa del Rey victory beating Real Madrid. Amazingly, the fans of other teams would applaud him due to the high level of respect they had for him.
Anger outbursts
Maradona has a history of anger issues. Perhaps his short frame made him like a pitbull on the field because the taller players would pick on him, or perhaps they would try and trigger his temper. In one particular fight a player kept calling him xenophobic insults, so he retaliated. In other fights, he had taken several cheap shots which he took exception to. Here is a video of 3 of his most famous fights:
And here is a video of him slapping a reporter:
World Cup glory
Maradona played in 4 World Cups for his home country of Argentina. He also coached them at the 2010 World Cup.
He is most famous for leading Argentina to a 1986 World Cup win over West Germany, not only serving as captain but also being named the most valuable player of that tournament. You may remember his greatest moments during their quarterfinal match against England where he scored two goals. The first goal was controversial for 2 reasons, the first was that England thought he was offsides, and the second the appearance that he used his hand to guide the ball in the net. This goal was nicknamed "The Hand of God" and here is the video:
His second goal of the game was one of the best goals of the century according to FIFA voters:
He dribbled the ball 60 yards between different players and put it into the net. This would be the game-winning goal.
Maradona would captain Argentina again at the 1990 World Cup, but he was slowed down by a nagging ankle injury. Nevertheless, he once again helped them get to the Finals but this time they would lose to the West Germans.
Doping at the World Cup
The 1994 World Cup was played in the United States, but Maradona was only able to play in two games because he was sent home for testing positive for ephedrine. Ephedrine is a stimulant and can also be used for asthma. He insisted that his trainer accidentally gave him a power drink called Rip Fuel, which contained the drug. FIFA expelled him that year and Argentina would lose in the 2nd round. This would end his international career.
Recent controversies
Argentina is currently in the 2018 World Cup and has done poorly in the first 2 games as of this article. They are in severe danger of not making it out of the 1st round which would be a huge embarrassment. Maradona has demanded he have the opportunity to speak to the team to motivate them, and he called their performance so far 'a disgrace'.
The 2nd controversy involves Argentina's star player Lionel Messi. Maradona has been critical of the attacks on their star player saying "When I played and had a bad game, the team always had my back. Messi has no one. It's all on his own." It has also been rumored that Argentina's coaches have been fighting during practice. This unorganized situation has Maradona very upset, and he has said that certain coaches should not even bother returning home if they lose their next game.
Steroid use
Maradona is a hothead and a very intense personality. Soccer players do use steroids and other PEDs; however, it is very different than what bodybuilders would use. Here is a cycle he may have used to get an advantage on his opponents.
Diego Maradona Steroid Cycle (DISCLAIMER *):
Forums
Join the Evolutionary.org forums and have your say on Diego Maradona Steroid Cycle!
*DISCLAIMER: The cycle above is our opinion on what Diego Maradona could have used, this is for information and entertainment purposes only. There is no direct evidence that Diego Maradona used steroids or any other drugs. This article is our freedom of speech.
Get more information about News, Doping, SARMS, Steroids, HGH and PDS...
Subscribe to our Underground Evo mailing list and get interesting news and updates directly to your inbox.
Thank you for subscribing.