Mike O'Hearn is a fitness model, weightlifter, businessman, and social media/TV fitness celebrity. You may remember him on the television show "American Gladiators" where normal fitness guys take on gladiators who are far bigger than them for prizes. You probably have seen him quite a bit on social media, as he has millions of followers and has stoked a lot of interest. His peak stats are 6'3" 250 pounds at 4% body fat shredded, and he was born in 1969.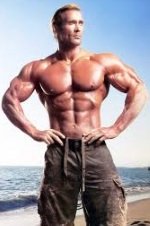 Early life and success
Mike comes from a good genetic pedigree, and his father was a football player and bodybuilder. Mike also came from a large and very athletically gifted family, and being the youngest, he was the one picked on by older siblings. They were all involved in bodybuilding, powerlifting, and martial arts, so Mike grew up in that environment where he had to keep up.
Mike started training in 2nd grade, and by the time he was a teenager he looked better than most adults with a chiseled physique and an 8 pack.
He would end up having a 30-year successful career as a fitness model and was a 4 time Mr. Universe and 4 time California Powerlifting Champion, Judo Champion, and Strongman. You have probably seen Mike in some fitness magazine as he has been featured on over 600 of them! In addition, he was the Gladiator called 'Titan' on the TV show American Gladiators, as mentioned earlier.
Mike is now a very successful fitness businessman and spokesperson. Outside of fitness he is well known in California for his work helping with charities and philanthropy.
Social media
Mike has a lot of followers on social media. He has 1M Instagram followers https://www.instagram.com/mikeohearn/?hl=en , 150K youtube subscribers https://www.youtube.com/channel/UC8YnxGgVT62DDZ6sX1pLKGQ/videos , and 1.2M Facebook fans https://www.facebook.com/mikeohearnofficialpage/ .
He also has a website mikeohearn.com where he has a fitness app that he charges $10 a month to subscribe to. He says the app will unlock training secrets you won't find anywhere else. Otherwise, he is involved with supplement companies and marketing their products at expos.
While at an expo in Chicago, Mike did a video in front of his booth with his shirtless pal Heath Evans, which generated millions of views:
Another popular video is a 'secret chest workout' he shows you:
And finally Mike makes a video on his good friend Rich Piana following his death:
In the video, he was calling him a passionate guy, a smart guy, and to keep things positive and always cherish life.
Mike O'hearn and Rich Piana were both dog lovers and donated to animal causes.
Training style
Mike has a powerlifting background, which is how he built such a strong base. He loves compound lifting with heavy weights and a lot of intensity. His favorite lifts he preaches to new guys are bench press, squats, and of course the deadlift.
Mike has the genetics to do extremely high volume in his workouts. He believes in a 5 day a week split routine with 2 days off. During the workouts, he splits the big muscle groups in individual days, and then adds abs and cardio to the day's workout.
His core compound lifts are 5 sets of 2-4 reps. His daily cardio will range from 30 to 60 minutes per day.
Nutrition
Mike is a big guy and he stays that way by eating big too. He likes to eat 8 meals a day, but cautions that his diet isn't for everyone. His strategy is protein and carbs in his first 4-5 meals of the day, then he will have no carbs and add vegetables to his remaining meals.
Mike tells new guys to try different diets and don't be afraid to change things up. Thereafter, he preaches that you should have a treat once in a while and not punish yourself with your diet. He says that an occasional cheat meal will prevent your body from adapting too much and preventing it from utilizing nutrients.
Controversies
Mike O'hearn has been mocked by being called Mike O'tren on social media because he still claims 'natty', meaning he denies he uses steroids.
Mike has come under pressure by many for selling fitness gimmicks including duck eggs and a contraption called the ab wheel. Both sell for almost $1000 or more and both in my opinion, are misleading and borderline scams.
Mike has done a good job of trolling his detractors by posting hashtags #AllNattyBro on his social media feeds along with pictures of himself. Mike has also passed drug tests while competing; however, that doesn't mean he still didn't find ways around the testing. He could be clever about when he uses steroids, so they are not detected.
Shawn Ray called out Mike in this video on steroid use:
Mike makes a good point that he has been lifting since he was 8 years old and was jacked as a teenager, so it isn't fair to attack him for steroid use.
Steroid use
We may never know the truth behind Mike O'hearn's steroid use; however, we can all agree he is blessed with top 0.1% genetics. We can have fun and speculate on what he probably uses to get so ripped and muscular.
Mike O'Hearn Steroid Cycle* (disclaimer)

Forums
Join the Evolutionary.org forums and have your say on Mike O'Hearn Steroid Cycle!
*DISCLAIMER: The cycle above is our opinion on what Mike O'Hearn could have used, this is for information and entertainment purposes only. There is no direct evidence that Mike O'Hearn used steroids or any other drugs. This article is our freedom of speech.
Get more information about News, Doping, SARMS, Steroids, HGH and PDS...
Subscribe to our Underground Evo mailing list and get interesting news and updates directly to your inbox.
Thank you for subscribing.