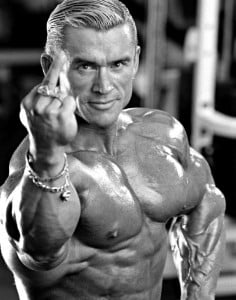 Lee Priest, who Arnold Schwarzenegger once described as one of his most feared opponents, has admitted to using anabolic androgenic steroids for two decades. Lee further added that "Roid Rage" is a myth and the real problem is alcohol.
Priest, Australia's leading bodybuilder said anabolic steroids are commonly used by professional and amateur athletes. He further remarked that sending steroid users to jail for up to 25 years is completely ridiculous. The former IFBB professional bodybuilder and a current NABBA Professional athlete went on to say that he had seen rugby league players pick stuff up from people and he had even seen use of steroids in soccer, cycling, swimming, basketball, and baseball. Lee added people should go to an emergency room any given weekend and see how many people are in there from alcohol abuse and fighting, and then they should show him the beds where people are in there for steroid overdose or steroid use.
Priest, who started competing in bodybuilding at 13, said the biggest cause of violence in today's times is a lack of discipline in schools and at home. The bodybuilder said he thinks it comes down to how kids are raised these days and said children in his times used to get the cane while growing up and parents and teachers cannot do that now.
Lee Priest also said there are young kids on anabolic steroids in 60 percent of the gyms he walked into. Priest said he didn't saw any roid rage from them though he saw some idiots whether they take steroids or drink alcohol. The bodybuilder also slammed suggestions from Premier Barry O'Farrell that the use of anabolic steroids had contributed to violence in Kings Cross. O'Farrell remarked he makes no apologies for getting tough on illegal supply and possession of steroids as part of our crackdown on drug and alcohol-fuelled violence. Priest remarked Barry O'Farrell needs to talk to people in the know like him, who have been using them for years and added he had never been in a fight since high school, never had a speeding ticket and added that Roid Rage Is A Myth and he sees more idiots doing shit drunk than on steroids. There is no official link between steroids and violence, Priest claimed and said he had witnessed guys on strict diets get mad when they can't eat food, but this whole roid rage thing is a myth.
Priest said he finds it strange that if he is a professional athlete, an adult using a steroid for my given sport and had two bottles in the house for an injection once a week, he could get 25 years for doing that as he is not hurting anyone. The bodybuilder remarked that the underlying issue is not addressed by tougher penalties for steroid use.
Dayne Hudson, a natural bodybuilder, remarked he had never used steroids in my life, but he had been around gyms for long enough to know that what was once the domain of a few professional athletes is now becoming less taboo in the general public.
Get more information about News, Doping, SARMS, Steroids, HGH and PDS...
Subscribe to our Underground Evo mailing list and get interesting news and updates directly to your inbox.
Thank you for subscribing.