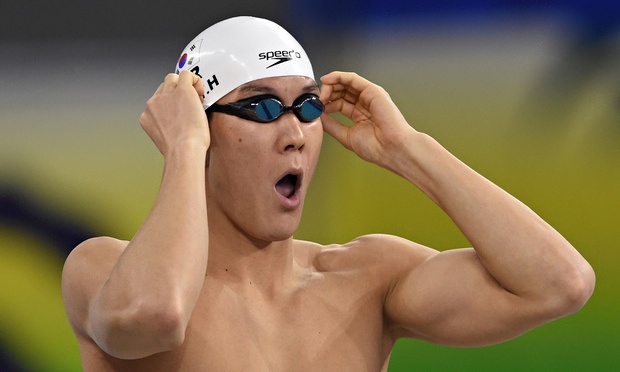 South Korean swimming star Park Tae-hwan has received a ban of 18 months by world swimming body FINA on Monday after he failed a drug test last year. The ban will rule Tae-hwan out of this year's world championships in Kazan, Russia from July 17 to August 2 as it will run until March 2, 2016 but the swimmer can compete at the Rio Olympics.
Under a rule instituted last July by the Korean Olympic Committee (KOC), athletes who have been suspended for a positive drug test may not be named to a national team for a period of three years, starting from the day the suspension ends.
The 25-year-old South Korean swimmer tested positive for Nebido (Testosterone), a banned anabolic steroid at an out-of-competition control before the Asian Games on September 3 last year. According to an announcement by FINA, the results of Tae-hwan from September 3, 2014 onward will be annulled and prize money forfeited that means he will have to return the three individual medals and three relay medals he won at last year's Incheon Asian Games.
Park's representatives blamed the positive test on an injection administered by a local hospital that offered free chiropractic and other treatments to the swimmer in July. It was argued by Park Tae-hwan that he was administered the injection without knowledge of what specific substances it contained, while it was claimed by the hospital it didn't know testosterone was a prohibited substance. Prosecutors indicted the doctor in February this year on charges of professional negligence arguing that the doctor did not disclose the name, side effects, or ingredients of the shot administered despite questions raised by Park.
Park, a four-time Olympic medalist and two-time world champion in freestyle, has 21 days to appeal the doping panel's decision with the Court of Arbitration for Sport.
Known affectionately as 'Marine Boy,' Park Tae-hwan became a national hero in South Korea when he won the gold in the 400 meters freestyle at the 2008 Beijing Games. The swimmer also added silver in the 200 meter free and won a pair of silver in the same two events at the 2012 London Olympics. Park has four Olympic medals, two world titles, and 20 Asian Games medals to his name and is the first Korean to win an Olympic medal in swimming and the first Asian swimmer to claim a gold medal in men's 400 m freestyle. The South Korean swimmer is the first swimmer to swim under 15 minutes in 1,500m and swim under 49 seconds in 100m free.
Park, one of the most celebrated athletes in South Korea, is known for his wholesome, clean-cut image, and poster-boy looks and was a goodwill ambassador for the 'Dynamic Korea' promotion for promoting image of his country abroad.
Park joins the long list of accomplished swimmers to be handed doping bans in recent times, with Chinese rival Sun Yang having served a three-month suspension last year. Last year, Russian swimmers Yuliya Efimova, Vitaly Melnikov, Sergei Makov and Vladimir Dyatchin, and Brazilians Joao Gomes Jr and Evandro Vinicius Silva were banned for doping.
Get more information about News, Doping, SARMS, Steroids, HGH and PDS...
Subscribe to our Underground Evo mailing list and get interesting news and updates directly to your inbox.
Thank you for subscribing.