Anderson Silva, Brazilian mixed martial arts star, denied using anabolic steroids after he failed an out-of-competition drug test.
Silva tested positive for two separate performance-enhancing drugs in a random screen given to him on January 9 by the Nevada Athletic Commission prior to his January 31 appearance against Nick Diaz at UFC 183 in Las Vegas.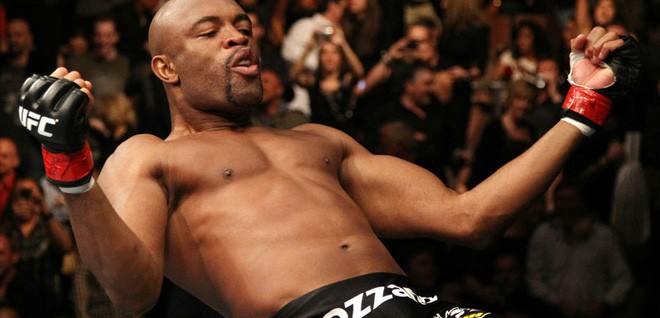 Considered the greatest mixed martial artist of all time by UFC president Dana White and other publications, Anderson Silva tested positive for Drostanolone and Androstane. Silva, the #1 contender in the official UFC middleweight rankings, holds the longest title defense streak in UFC history and has 12 post-fight bonus awards.
A recipient of the Brazilian Jiu-Jitsu black belt, Anderson Silva is known primarily for his mastery of Muay Thai striking. The MMA star has defeated many big names, including Olympic wrestler Dan Henderson, Olympic alternate Chael Sonnen, and Brazilian Jiu-Jitsu blackbelt Travis Lutter. He holds the distinction of having the most UFC title defenses (10), longest all-time UFC win streak (16), most all-time knockdowns in UFC history (17), and most title fight victories (11). Anderson Silva was named as Fighter of the Year by Sports Illustrated in 2008 and included in the Mixed Martial Arts Hall of Fame by Sherdog. Silva's fight vs. Vitor Belfort on February 5, 2011 was awarded as the Knockout of the Year and his fight vs. Chael Sonnen on August 7, 2011 was called the Fight of the Year by World MMA Awards.
Silva (34-6) defeated Diaz via unanimous decision at UFC 183 at the MGM Grand Garden Arena. Diaz tested positive for marijuana metabolites in his post-fight drug screening. The positive test of Silva is his first ever, while Diaz tested positive for the third time. The bout is likely to be turned into a no contest pending a vote by NAC officials on February 17th.
In a statement released by his manager, Ed Soares, the MMA star said his stance on drugs is and will always be the same. Silva said he has not taken any performance enhancing drugs and is an advocate for a clean sport.
Due to his pre-fight drug test failure, the UFC has blocked a payment of roughly $6 million. The payment will now be cleared once a final ruling on the case of Silva has been made by the Nevada Athletic Commission. The amount is the sum of his $600,000 purse to show, win bonus of $200,000, and his pay-per-view points.
Georges St-Pierre, the semi-retired Canadian mixed martial artist and the former 3-time Welterweight Champion of the Ultimate Fighting Championship, said he was surprised by the positive test of Silva. St-Pierre, who has been a strong advocate of clean sports, remarked it wasn't his place to judge Silva. Firas Zahabi, the coach of George St-Pierre, compared Anderson Silva to disgraced cyclist Lance Armstrong. Zahabi remarked Lance Armstrong has not helped the sport of cycling and added so many people were inspired by its history and then we learn that it is a lie and now you live something similar in our sport. Zahabi called for clean competition in mixed martial arts and went on to remark that he wants the sport to be clean else a guy is going to die in the Octagon one day.
Get more information about News, Doping, SARMS, Steroids, HGH and PDS...
Subscribe to our Underground Evo mailing list and get interesting news and updates directly to your inbox.
Thank you for subscribing.