Jason Huh is an extremely massive bodybuilder, businessman, and online fitness guru/personal trainer. His offseason weight is 300 pounds, while his competition weight is around 260 pounds.
Early life and competitions
Jason Huh worked as a chef in a restaurant in his teenage years and then got a job at a nutrition and smoothie shop that was owned by nutrition guru Jeff Hall. Jason decided to start lifting weights and get healthier; in fact, during this time he would open up his own smoothie shop and from there started bodybuilding seriously.
In 2006, he competed at the Southern States and won 1st place in the heavyweight division. He then set his sights on a pro card and was approached by fellow bodybuilder Art Atwood, who started to coach him and would refer to Jason as a 'Super Freak' and felt as though he had tremendous genetics and mental strength.
In 2009, he would meet his future wife Jessica and they helped motivate each other to compete, as she was also seeking her pro card as well. Jason would get his pro card at the 2010 USA's, winning first place at 256 pounds, and the next year he hired Hany Rambod. Although he would finish in just 7th place at the Tampa Pro, and had some other modest results as a pro, he still is grateful for his successes.
He would end up marrying Jessica, and his future goals are one day to be Mr. Olympia.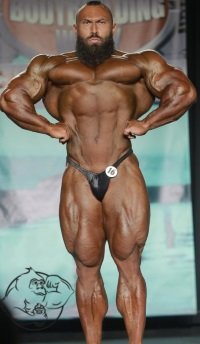 Unconventional training and Social Media
Jason has gotten flak from trolls on social media for his unconventional workouts which appear to be half reps or poor form. In response, he isn't afraid to troll back putting out a video where he does his unconventional movement workouts:
The video received a 10/7 like to dislike ratio and had 500K views, making it his most watched video on youtube.
Another popular video featured him shopping on a $50 budget for a weeks worth of food to body-build:
He also has highly viewed motivational videos, which are short and to the point:
Jason has quite a facebook following with 1.3M+ fans: https://www.facebook.com/jasonhugehuh/ . On it, he posts videos and photos of his workouts and family. His Instagram is the same thing with almost similar posts https://www.instagram.com/jasonhugehuh/?hl=en with half as many fans.
Businesses
Jason is the founder and CEO of steelsupplements.com/shop/ which has an assorted variety of supplements for sale. He also has videos about most of his products on a youtube page. I took a look at the ingredients of his products and mostly all contain stimulants and amino acids. His strongest supplement is called 19norandro, which contains legal but weak prohormones. The product line does differ from other fitness celebrities in that they are more unique and customized vs. just being your typical cookie cutter type of products like whey and pre-workouts.
He also runs a website jasonandjessicafitness.com/ which essentially sells both apparel and fitness consultations for both women and men. His wife Jessica is also involved and handles the female end of things. The programs are quite pricey costing over $1000 a year for a female, and $2500 for a 12-14 week male program, to help weight loss. They also both offer phone consultations costing $150-$250 per hour, and Jason has a contest prep program for $3500.
He also owns a smoothie shop in his town.
Nutrition
Jason believes in the big 3 foods: chicken, rice, and eggs, which are affordable on a budget. He doesn't believe in eating for pleasure but eating 'for a purpose.' This type of clean eating he feels is very important. Jason's background as a cook has allowed him to offer strategies for young guys who get tired of eating dry chicken. His advice is to boil your chicken breasts, as this keeps them juicy vs. drying them out from baking or grilling.
As for rice, his advice is to not cook it with so much water or too little either, this allows it to be nice and fluffy instead of moist or dry. He also says the glycemic index of white rice varies based on how much water is absorbed, so you need to use trial and error to use the least amount of water possible but still cook it correctly.
As for eggs, he recommends sunny side up so you get runny yolk that you can use as a condiment, this makes it taste better and is healthier. Adding a little salt, pepper, and hot sauce to prevent any needless calories is his way of making it taste better.
All in all, he eats this exact meal 6X per day throwing in a couple apples which are only a couple dollars extra. This meal plan, he says, can help every lifter bulk up without putting a hole in their wallet.
It is unclear though where he is getting his minerals and vitamins. My opinion is with this diet you need to take a multivitamin like N2Guard with it, or consider adding vegetables.
Steroid cycle
Jason has spoken out against using steroids for young guys and has told them to wait and train harder:
He says he won teen nationals while totally natural, and that you need genetics to excel at bodybuilding with or without steroids. With that said, there is no doubt that Jason uses steroids to get him to his massive size, and we can speculate his cycle probably looks similar to this:*
*Testosterone Cypionate 1500mg/week
*Trenbolone Acetate 1000mg/week
*Equipoise 1000mg/week
*Anadrol 150mg/day
*HGH 12IU's/day
*Insulin 5IU's 2X per day premeal
*Cardarine 40mg/day
Forums
Join the Evolutionary.org forums and have your say on Jason Huh's steroid cycle!
*DISCLAIMER: The cycle above is our opinion on what Jason Huh could have used, this is for information and entertainment purposes only. There is no direct evidence that Jason Huh used steroids or any other drugs.
Get more information about News, Doping, SARMS, Steroids, HGH and PDS...
Subscribe to our Underground Evo mailing list and get interesting news and updates directly to your inbox.
Thank you for subscribing.