Alberto Salazar, the coach of British athlete Mo Farah, has been accused of plying training partner of the Briton with performance enhancing drugs.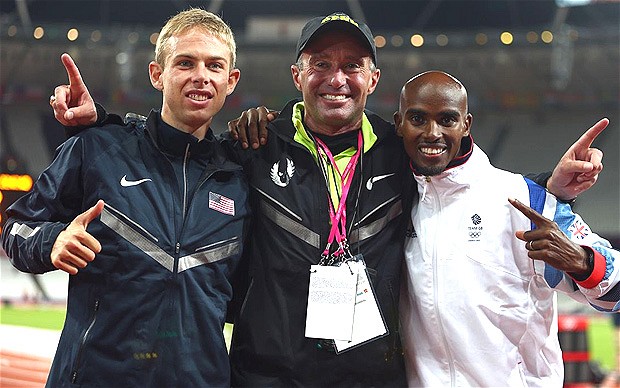 It was claimed in a BBC Panorama documentary that banned anabolic steroids were given by Salazar, who runs the Nike Oregon Project, to Galen Rupp, the American who finished second behind Mo Farah in the 10,000m at London 2012. The documentary also alleged that Rupp has regularly used the asthma drug Prednisone that is banned in competition. The BBC documentary also alleged that Rupp was encouraged to use intravenous drips to flout anti-doping regulations. The documentary also claimed that Salazar has been using his son, Alex, as a guinea pig to test supplements to find out how much could be taken while evading drugs testers.
Both Rupp and Salazar deny any wrongdoing and there has been no suggestion that Mo Farah has taken any banned substances or broken any rules. However, former athletes and colleagues under Salazar's guidance claim that the coach has encouraged athletes to take illegal substances while investigating how to avoid and evade anti-doping authorities.
Steve Magness, a former assistant coach at the Nike Oregon Project, revealed he saw reports showing blood levels of all athletes working with Salazar. It was claimed by one of the reports that Rupp had been using the testosterone as far back as 2002. Magness said under one of Galen's it had 'currently on testosterone and prednisone medication' and when he saw that he kind of jumped backwards as testosterone is obviously banned and everyone knew that.
In a statement, Alberto Salazar denied the allegations and remarked that the legal supplement Testoboost had been "incorrectly recorded as 'testosterone' medication" on the report of Rupp. Salazar told the BBC that the allegations your sources are making are based upon false assumptions and half-truths in an attempt to further their personal agendas and went on to add that no athlete within the Oregon Project uses a medication against the spirit of the sport we love.
Meanwhile, Rupp vehemently denied ever using testosterone or testosterone medication. The athlete has surprisingly never failed a drugs test. In a statement, Rupp remarked he is completely against the use of performance enhancing drugs and added that he has not taken any banned substances and Alberto has never suggested that he should take a banned substance.
Widely regarded as one of the sport's leading endurance coaches, Salazar previously worked as a consultant for British Athletics since 2013 enjoyed his greatest moment at the London 2010 Olympic Games when Mo Farah and Galen Rupp completed a one-two for his camp.
Farah, who joined the Oregon-based group of Salazar in 2011, told the BBC that he has not taken any banned substances and Alberto has never suggested that he should take a banned substance. The Somali-born British long-distance and middle-distance runner said Alberto and the Oregon Project have always strictly followed World Anti-Doping Agency rules and if there is ever a question seek guidance from the United States Anti-Doping Agency to ensure they are correctly interpreting WADA's rules.
Get more information about News, Doping, SARMS, Steroids, HGH and PDS...
Subscribe to our Underground Evo mailing list and get interesting news and updates directly to your inbox.
Thank you for subscribing.