FIFA, the world governing body of football, will run up $250,000 in extra costs as samples from the Football World Cup in Brazil this summer will be sent across the Atlantic for analysis, according to the chairman of the body's Medical Committee.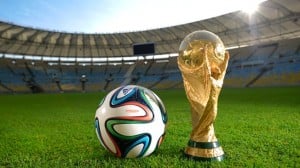 Michel D'Hooghe made this comment while setting out plans for the most extensive anti-doping controls ever at the flagship tournament of FIFA. The Medical Committee chairman said approximately 1,000 anti-doping controls in all would be affected, with all 736 selected players undergoing out-of-competition urine and blood tests. Two players from each team would then be selected for in-competition tests at each World Cup match. It was further confirmed by D'Hooghe that anti-doping testing would be conducted for anabolic androgenic steroids, human growth hormone (hGH), and the blood-boosting drug erythropoietin (EPO).
For the first time, biological profiles of footballers will be constructed using information collected at a World Cup. This will help to identify suspicious patterns that might be indicative of doping. Michel D'Hooghe said data derived from three Club World Cups and the Confederations Cup last year was already being used for this purpose. He went on to remark that the world governing body of football has decided to keep samples from the Brazil 2014 Football World Cup for eight years so that retrospective testing can be permitted where required.
The World Anti-Doping Agency (WADA) last year revoked the accreditation of the Ladetec laboratory in Rio de Janeiro. After this, it was announced by FIFA that samples collected from players participating in World Cup 2014. D'Hooghe added that urine and blood samples of players would be sent immediately after matches by DHL to Switzerland.
In another development, FIFA's Chief medical officer Jiri Dvorak announced a new strategy aimed at targeting drug cheats within football. He remarked the fight against doping has intensified over the last 10 to 15 years and the increase of simple sampling procedures both in and out of competition controls does not stop some athletes to continue with doping strategies. Dvorak added most of the international federations decided to freeze the samples for a number of years and FIFA will do that from the 2014 World Cup. He also remarked FIFA will freeze them and keep them as long as we want and we can always revisit the samples. The Chief medical officer added we have decided that we will examine all participating players in the preparation period between now and the World Cup at least once and then we will perform routine procedures during the World Cup and examine blood and urine and we will compare. He went on to say that we will compare this data with already existing sample analysis from Champions League, from the Confederations Cup 2013 from the Club World Cup from 2011, 2012 and 2013 and so for the top players, we will have a number of sampling procedures.
Dvorak revealed we can compare different samples from the same athletes being taken over periods of the athlete's career in and out of competition, during different times of the year, pre-competition, during high profile competition and we compare the different parameters in urine for the different steroids and hormones and also in blood which could indicate artificial manipulation of the body by doping substances or methods.
Get more information about News, Doping, SARMS, Steroids, HGH and PDS...
Subscribe to our Underground Evo mailing list and get interesting news and updates directly to your inbox.
Thank you for subscribing.