Rob Ninkovich is a retired linebacker/end who won 2 Super Bowls and was known as a scrappy and smart player. He never was considered an amazing talent and his NFL career started very slow, but he found a home with the Patriots and became one of their leaders on defense.
At his peak playing days, he stood at 6'2" 260 pounds. His total NFL stats were 460 tackles, 46 sacks, 5 interceptions, 10 forced fumbles, 14 fumble recoveries and he also had 2 touchdowns.
Early life
Ninkovich was born outside of Chicago, Illinois to a Croatian family. He attended high school south of Chicago where he played end on defense and tight end/fullback on offense. Considered one of the best pass rushers in his state, he would win All-State honors. His 2nd sport was baseball which he was also very good at.
College football
Ninkovich wasn't heavily recruited out of high school, so he played for a small college called Joliet Junior College in his home state of Illinois. Displaying a strong work ethic, he worked as an ironworker building skyscrapers in Chicago during his summer break from school along with his blue-collar father.
After 2 very good years of playing football, he transferred to Purdue which has a very good football program. He had to be a backup his first year due to their talent on defense, but he still managed to lead the team in tackles while also leading his conference with 8 sacks. His senior year he won 2nd team All-Big Ten honors, including a 4 sack game vs. Indiana. Statistically, he had an amazing senior year logging 48 tackles, 8 sacks, 2 interceptions, and 2 forced fumbles. They also put him on offense on some gimmick plays and he also caught a touchdown. A late bloomer for sure, Ninkovich would get noticed and was invited to play at the East-West Shrine Game which was attended by many NFL scouts.
Slow start to NFL
Ninkovich attended the NFL Combine and ran a 4.93 40 yard dash, benched 225 pounds 23 times, and measured over 31" in arm length. Combined with his excellent senior season at Purdue this helped him get drafted in the 5th round by the New Orleans Saints in 2006. The Saints already had 2 very good ends, so even after a good preseason, he had to fight for playing time. He did quite well for limited chances logging 3 tackles in the first game. Disaster struck when he tore a ligament on special teams vs. Atlanta. This meant he would miss the rest of his rookie season and put his career at risk.
His 2nd season was a disaster. Not only did the Saints bring in more competition at his position, but he also injured his knee during camp. The team decided it would be best to get rid of him because they did not believe he would ever be healthy again. The next day the Miami Dolphins signed him to be the backup to future Hall of Famer Jason Taylor. Unfortunately, he did not get a chance to play very much that season or the next, as he was put on the practice squad for much of the season.
Patriots
....Patriots give him a chance....
After a brief stint with the Saints again, the Patriots signed him to a 1 year prove-it contract before the 2009 season. His gritty play that year earned him a contract extension and the next season he would blossom into a starting outside linebacker in a 3-4 defense. This meant he played the run on early downs, then switched to pass rush on passing downs. The Patriots system was perfect for his gritty and hardworking ability. He had his best season recording 62 tackles, 4 sacks, and 2 interceptions in 10 starts.
In 2011 he had an even better season, earning all 16 starts, which included 2 interceptions vs. the Jets in which 1 of them he returned for a touchdown. During the playoffs, he had a monster game vs. the Broncos totaling 5 tackles, 2 sacks, and 2 QB hits. Then followed that up with 7 tackles vs. the Ravens the next week. In the Super Bowl, he had 2 QB hits, half a sack, and 3 tackles in a loss to the Giants.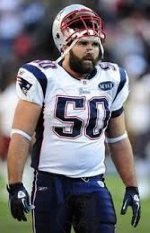 By now Ninkovich was becoming a reliable clog on the Patriots defense and he started every game for 6 years straight on defense and logged 40 sacks during that span. He received another contract extension, this time 3 years for $15M. The Patriots would win 2 Super Bowls with him leading the defense and have numerous playoff and division wins.
Steroid suspension
In 2016 disaster struck twice for Ninkovich. First, he tore his triceps during training camp which meant he would be out for a period of time, then before the season was set to start he failed a PED test and was suspended for 4 games.
Ninkovich would claim he tested for a banned substance that he did not knowingly take. He said he was heartbroken and never wants to cut corners. Rather he said, "I want to do things the right way, with high integrity, and that's what I have always wanted to stand for."
He retired the next offseason after 11 seasons.
Josh Gordon controversy
Josh Gordon is a troubled, but talented, receiver who the Patriots traded for early in the 2018 season. Gordon had previously been suspended for addiction problems, and also missed meetings and would be late showing up. Ninkovich did not agree with his former team picking him because he says there is too much pressure playing for the Patriots, and that Gordon 'would not be a great fit'.
Steroid cycle
Ninkovich was never the most talented player, so he likely wanted to take steroids to help him keep up with his ultra-talented peers. This is what we speculate he used before the 2016 season:
Rob Ninkovich Steroid Cycle * (disclaimer)
Human Growth Hormone 5-8IU's per day
Forums
Join the Evolutionary.org forums and have your say on Rob Ninkovich Steroid Cycle!
*DISCLAIMER: The cycle above is our opinion on what Rob Ninkovich could have used, this is for information and entertainment purposes only. There is no direct evidence that Rob Ninkovich used steroids or any other drugs. This article is our freedom of speech.
Get more information about News, Doping, SARMS, Steroids, HGH and PDS...
Subscribe to our Underground Evo mailing list and get interesting news and updates directly to your inbox.
Thank you for subscribing.