The Court of Arbitration for Sport (CAS) has found five Russian athletes guilty of doping. The CAS suspended each from competition for a period of four years.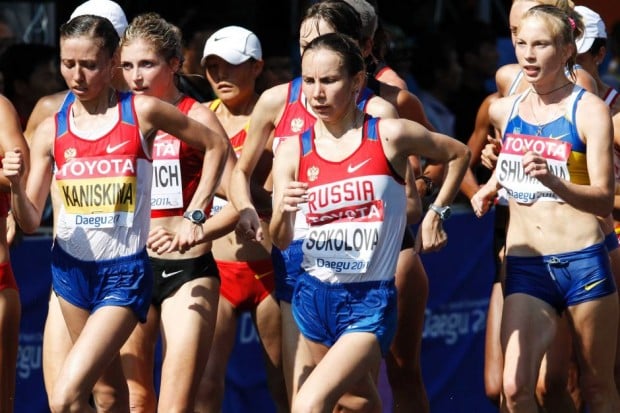 The CAS ruling concerned racewalkers Vera Sokolova, Elmira Alembekova, Ivan Noskov, Mikhail Ryzhov and Denis Strelkov, all of whom tested positive for blood boosting endurance enhancer EPO in June 2015 at Russia's national training center in Saransk.  Their cases were taken up by CAS after the athletic federation of Russia was suspended by the International Association of Athletics Federations following revelations of a massive, government-supported doping program.
Erythropoietin, or EPO, is used primarily by long-distance runners and is a hormone which can increase endurance and, in athletics. Erythropoietin stimulates red blood cell production and is injected under the skin.
Reigning European champion Elmira Alembekova, a two-time European Cup champion, was the winner of a gold medal in the 20 kilometers at the 2014 European Championships in Zurich. Elmira continues to be coached by Viktor Chegin even after he was suspended for a lengthy series of performance-enhancing drug suspensions against many of his athletes.
Noskov won 2014 European 50km bronze. Ryzhov claimed 50km silver at the 2013 World Championships. Sokolova - the 2003 World Youth Champion - won the European Cup in May last year. Strelkov was a bronze medalist in the 20km walk at the European Championships two years ago.
In a statement, the CAS said all five athletes have been found to have committed an anti-doping rule violation and added their suspensions would retroactively be counted from mid July 2016. CAS added all five athletes have been found to have committed an Anti-doping Rule Violation (ADRV) pursuant to Rules 32.1 and 32.2 of the International Athletics Federation (IAAF) Competition Rules and sanctioned. Ivan Noskov, Mihail Ryzhov, Vera Sokolova and Denis Strelkov are all sanctioned with a four year period of ineligibility, starting on July 15, 2016. Elmira Alembekova is sanctioned with a four-year period of ineligibility, starting on July 17, 2016. The CAS also said all competitive results obtained by them in the period 2 June 2015 to 15 July 2015 are disqualified, with all the resulting consequences, including the forfeiture of any titles, awards, medals, points, prizes, and appearance money. It was further remarked by the CAS they did not attempt to defend themselves or excuse the positive results.
Last year, it was found by a World Anti-Doping Agency investigation that athletes and coaches had tried to obstruct drug testers from collecting samples during the out-of-competition controls that caught the five. The Russia's national training center in Saransk was then under the control of Coach Viktor Chegin, who was banned for life in March. More than 25 of his athletes have failed drug tests, including three Olympic champions, London 2012 50km walk winner Sergey Kirdyapkin, Beijing 2008 women's 20km gold medalist and London 2012 silver medalist Olga Kaniskina and Beijing 2008 men's 20km winner Valery Borchin. Others include Sergei Bakulin, the 2011 world 50km champion, and 2011 world silver medalist Vladimir Kanaykin, now banned for life.
Get more information about News, Doping, SARMS, Steroids, HGH and PDS...
Subscribe to our Underground Evo mailing list and get interesting news and updates directly to your inbox.
Thank you for subscribing.