...you will see benefits from HGH use within the first 8 weeks, but why?...keep reading....
Human growth hormone (HGH) has become extremely popular in recent years due to the variety of benefits that it offers. This drug can lead to rapid fat loss, anti-aging effects, more muscle mass, better sleep quality, and quicker workout recovery.
You can see that HGH offers a wealth of benefits. But what's not so clear is when these perks will kick in. Keep reading as I discuss when you can look forward to reaping the advantages of HGH.
HGH Benefits & When You'll See Results
Human growth hormone shouldn't be looked at as an overnight solution to melting fat, packing on muscle, and looking more youthful. Instead, some of this drug's benefits can take weeks or even months to come through.
HGH may not provide quick satisfaction, but there's a reason why many people use this compound: it works!
HGH provides a number of positive changes in your health and overall life. Of course, you'll no doubt be curious as to when these changes will occur. Here's a look at when you'll begin seeing noticeable results with each benefit.
Fat Loss
Human growth hormone is one of the most-powerful drugs you can use with regard to fat loss. A 1990 study appearing in the New England Journal of Medicine shows that participants lost 14% body fat and gained 8.8% lean muscle after using HGH for several months (1).
Additional research presented at the 1999 Endocrine Society conference shows that patients lost 13% body fat and gained 4% lean muscle through HGH (2). This same study also revealed that human growth hormone burns over twice as much fat as taking testosterone!
You should see noticeable fat-loss results from this drug in as little as a few weeks. But studies show that it'll take you a few months before experiencing HGH's dramatic fat-burning effects.
Muscle Gain
HGH doesn't have the incredible anabolic properties of steroids. But it does help you gain significant muscle through indirect means, such as faster workout recovery and increased IGF-1 production (3).
You should begin noticing a change in your muscle composition by the second month of use. These changes will appear more-pronounced as you burn fat with HGH too.
Healing Injuries
One of this drug's best use cases is speeding up injury recovery. A 2010 Danish study revealed that HGH can heal damaged ligaments and tendons at a six-fold rate, thanks to increased collagen synthesis (4). This compound can also cause rapid recovery from bone fractures and lower back injuries (5)(6).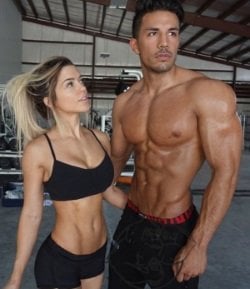 Healing from injuries can take time, so it's difficult to put an exact timetable on when you'll experience this benefit. But clearly, HGH will help you get back to full speed much quicker than letting injuries heal naturally.
More Energy
Many human growth hormone users feel a surge of energy and stamina while they're on the drug. On average, you should begin feeling more energetic after just 1-2 weeks of HGH usage.
This high-energy state will become enhanced as you experience other HGH benefits, such as fat loss, more muscle mass, better sleep quality, and faster workout recovery.
Improved Skin
HGH is well touted for its anti-aging benefits. And while you won't suddenly look 20 years younger just because you're on human growth hormone, you can expect a better appearance over time.
Human growth hormone works to regenerate your skin cells, thus restoring your skin's thickness and firmness. In turn, this staves off wrinkles and sagging skin.
You should experience firmer skin after 2-3 months of use, along with reductions in cellulite and other aging signs after 4-6 months.
Better Sleep Quality
An adequate HGH level helps you fall asleep faster and get more restful sleep. This is a cycle, because deep sleep allows your body to produce more natural growth hormone.
If you're having trouble getting rest, then using HGH helps you attain better sleep quality. You'll experience this benefit after just a few weeks of using the drug.
Enhanced Mood
Low growth hormone contributes to wild mood swings and poor cognitive function. HGH remedies this problem by bringing your growth hormone level back into balance and helping you maintain a positive mood.
Research shows that 18 patients who took HGH for just six weeks improved their mood and cognitive function considerably (7). Therefore, you should experience this benefit in several weeks' time.
Is It Worth Waiting for HGH Benefits?
The HGH advantages that I've covered here can take anywhere from a few weeks to several months to kick in. Much of how quickly you receive the benefits depends upon your dosage size.
But even with higher doses, you shouldn't expect HGH's perks to happen overnight. That said, you may wonder if it's worth waiting for the results.
The answer is yes, it is worth waiting. This is especially true when considering that HGH can do things for your body that don't occur naturally — at least not within any reasonable time frame.
Your body produces less natural growth hormone as you age. This makes it harder to burn fat, build muscle, sleep, heal injuries, and maintain a good mood. But using synthetic growth hormone helps you maintain a healthy lifestyle and excel in your pursuits, even as you get older.
HGH also offers tremendous athletic benefits over time, including more IGF-1 production (leading to more muscle), faster workout recovery, and accelerated fat burning.
Of course, patience is the key when using human growth hormone. As long as you can wait for the benefits, then you'll truly appreciate what this drug has to offer.
And it's not like you must wait forever for all of these perks to come through. You'll see noticeable benefits in certain areas after using HGH for just 1-3 weeks.
Buying HGH
I highly recommend that you try Juvetrope or any 100% pure HGH product. It's industry moderator approved!
If you want a trusted source for HGH, you should check out juvepharma.com - moderator approved source:
For a limited time, November- December 2018 Juvetrope HGH is having a 15% off sale, coupon code: Nov15 -- use it while it's hot guys! (THIS IS ALMOST EXPIRED USE IT ASAP!)
Forums
Join the Evolutionary.org forums and have your say on HGH! Read more about HGH on our forums:
References
1. Rudman D, Feller AG, Nagraj HS, et al. Effects of human growth hormone in men over 60 years old. N Engl J Med 1990;323:1-6
2. Blackman, MR, et al. Effects of growth hormone and/or sex steroid administration on body composition in healthy elderly women and men; 1999 Endrocrine Society conference, San Diego, California
3. 4. J Clin Invest. 1993 Feb;91(2):391-6.
4. http://ergo-log.com/secret-weapon-against-sports-injuries-called-growth-hormone.html
5. https://www.tandfonline.com/doi/abs/10.1517/13543780902893069?journalCode=ieid20
6. https://www.ncbi.nlm.nih.gov/pmc/articles/PMC4487155/
7. https://www.ncbi.nlm.nih.gov/pubmed/15299990
Get more information about News, Doping, SARMS, Steroids, HGH and PDS...
Subscribe to our Underground Evo mailing list and get interesting news and updates directly to your inbox.
Thank you for subscribing.